Mom of two sheds 21lbs, 26 inches and becomes Fit Mommy with Kick Start Fat Loss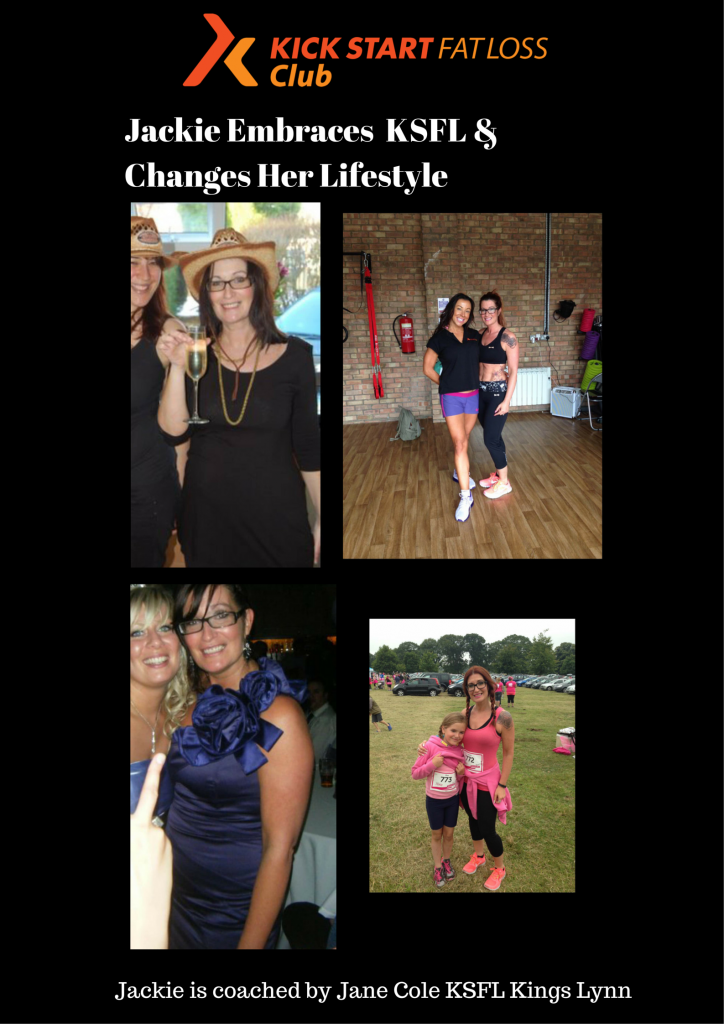 Mum of two Jackie Panks from Norfolk was determined to start her forties fit and fabulous. Having spent years dieting and attending various slimming clubs Jackie was stuck in a rut feeling unfit, unmotivated and in need of a fresh approach to health and fitness.
Jackie joined her local Kick Start Fat Loss (KSFL) with Jane Cole of The Fit studios in King Lynn  weighing 10 stone 10lbs.
Her goal was to lose weight and get fit , she quotes
' I never did much exercise before joining Kick Start Fat Loss and it showed as I had low energy levels which left me feeling very lethargic'.
Kick Start Fat Loss (KSFL) works on the principles of eliminating processed foods and empowering clients to achieve optimum well being through nutrition and fitness. Jackie quickly felt the benefits as the plan taught her how to fuel her body properly in order to have more energy and maintain a healthy lifestyle.
Where previously her exercise had been non- existent, Jackie now had a consistent fitness regime including running and HIIT (high intensity Interval training) workouts.
'The workouts keep my body challenged and leave me energized which I need as a busy mom of a ten and five year old.'
Jackie admits that she was once an emotional eater and that food like chocolate and crisps would be her staple diet. The ongoing support from Kick Start Fat Loss has given Jackie the tools, knowledge and confidence to now make positive food choices.
Jackie's diet before Jackie's diet now
Breakfast – bran flakes and a banana Breakfast – Turkey rashers, eggs and spinach
Lunch- tuna sandwich, low fat chocolate bar and crisps Lunch – chicken and avocado salad
Dinner – Pasta bake with a jar sauce with cheese Dinner – salmon and sweet potato
In twelve months Jackie has lost 1 stone 7lbs and an impressive 26 inches of body fat.
Not only has her body been transformed but also her attitude towards food, exercise and herself.
She quotes
'KSFL has changed my life by giving me more energy with the children, I sleep better, and my skin & hair healthier, I also have so much more body confidence.
My advice to others is to try the plan for a month and see the difference in your body and mind. You will never look back'
Posted on