Meet Paris our new Franchisee in Kent!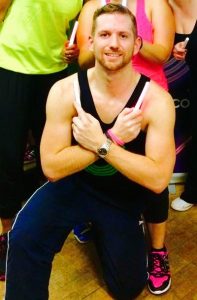 Paris has so much energy and enthusiasm and is a great addition to the team with his classes launching in January we can't wait to see what he has planned!
So let's get to know Paris…
1.Why did you join Kick Start Fat Loss ? What are your goals and aspirations ?
I feel it is everything my crew are looking for in a slimming club and want to be able to provide it to them. My goals are to change the way people think about health and that prevention is key to health.
2.Tell us something about you?
I have a civil partner, Paul, who is originally from Deal, Kent, who is also a Clinical Hypnotherapist and is co-director of Body Fit Forever, Ltd. Been together 8 years in January, and I have a 6 year old staffie. No kids though.
3.Hobbies / Interests / Pets ?
1 dog named Bella, I love live music, films, tv and computers. A bit of a geek when it comes to media, but I love travelling as I worked on cruise ships for nearly a year which is where I met my partner.
4.Where do you teach and how can people find about your classes?
I teach in different venues in Folkestone and Ashford and my company runs classes all around Kent. Anyone can find out about classes by visiting the website bodyfitforever.com and KSFL classes are launching in January.
Paris' story:
I am 34, I am from Charleston, South Carolina (which is the friendliest city in the USA) and that until a few years ago, I didn't like exercise. I mean hated it. I didn't like to go outside for walks, I didn't like bike rides, I didn't even enjoy walking my dog as it meant I had to leave the comfort of my lovely flat and the security of Sky TV and on demand service, which was always there when I needed it.
All of this changed when my brother was diagnosed with type 2 diabetes, and surprisingly he was only 2 stone (thats 28 pounds for my friends back home) overweight. It scared me to death, as I was ALSO 2 stone overweight. Many people are probably thinking 2 stone is nothing, well, I thought that was true until it wasn't. I didn't really know what to do, but knew I needed to make a change, so I started researching diets and I have done them all. I mean all of them, I have done weight watchers, slimming world, Cambridge diet (I was even a certified counsellor for them), Herbalife, Slow carb, No Carb, Low Carb, 5:2, Paleo, Primal, and the one that worked for me then was Paleo and Primal (but more about that later). So as I was losing the weight, I started to feel good and then decided I needed to do something that was like exercise but was fun. I have never been good at sports and I didn't have enough time in the day to burn off enough calories having sex (which was actually suggested by a friend if I don't like exercise), so I tried a sport I never thought I would like which was squash. Then I loved it!! I played three times a week for a year and joined the Folkestone Squash Club and it was during that time that I decided to start doing more fitness classes.
I tried Spin (OMG), Pump (OMG), Boxercise, Legs bums and tums (I was the only guy in the class), and something called Power (it's as bad as it sounds). During all these classes something changed and I realised that I could be up there teaching these classes and giving people the amazing experience and journey that I went through. So I decided to become a fitness instructor. I first got certified in Gym Instructing (which was extremely boring to me) and then Exercise to Music (which I loved). Through this, I have become certified to teach various classes including the amazing Clubbercise (whoop whoop) and Insanity (why god why).
This new venture of mine has created loads of memories and many new friends. For the first time in my life, I can honestly say I LOVE my job.
Many thanks to Paris for telling us his story!
To find a KSFL class near you VISIT HERE.
Posted on