Meet Sindy Matthews
who runs Kick Start Fat Loss, Retreat & Transformation
Days and is expanding her services
in Banbury.
Sindy has been teaching for 10 years.
She took the plunge and gave up a full time job in procurement and go after her dreams.
When she came across KSFL she knew it was the next step forward for her business.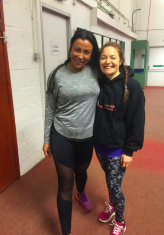 Kick Start Fat Loss Banbury is run by me, Sindy Matthews. I have been teaching fitness since 2006. The very first class I taught was at Spiceball.
I taught legs, bums and tums. I was very nervous, but enjoyed it so much. I really wanted to become a Body Combat Instructor as well, so as soon as I qualified as a fitness instructor (or Exercise to Music Instructor as they call it) I booked myself onto the Body Combat module and then later the Body Pump module. I am also qualified as a Gym, Boxercise, Fight Klub Beat Box & Fitness Pilates Instructor
In 2007 Rachel Holmes ran the KSFL programme for the first time.
I was due to get married in August 2008 and really wanted to look my best.
I was already working in the fitness industry, but hadn't yet studied nutrition. I have always struggled with my weight since I was small and being only 5ft I didn't carry the weight well. The results amazed me. I was leaner than I could have ever imagined and loved the way I looked and felt on my very special day.
In 2001 I was due to have surgery. The surgeon told me that I was considerably over weight for my height ( I was 12.7 stone) he said if I didn't shift the weight that they would not be able to perform the surgery. I hated the surgeon back then and thought he was being mean. But if I met that man today, I would shake his hand. If it wasn't for him I would probably be extremely unhealthy and very overweight. I have posted a picture of me when I was 21 at my graduation ball.
Now I am bringing the Kick Start Fat Loss (KSFL) Club to Banbury.
I am keen to help people lose fat, get fit and improve their health!
Sindy is a fantastic member of the KSFL franchise team, she is always super proactive looking for ways to improve her services to her clients.
Are you ready to take your business to the NEXT LEVEL?
I am looking for franchisees in the following areas:
Nottingham
London
Herts
Derby
Essex
Newcastle/ North East
Southampton
Edinburgh
Oxford
Bristol
Sheffield
Brighton
Manchester
Aberdeen
Bucks
Glasgow
KSFL franch vid2 from Rachel L Holmes on Vimeo.
We provide full training to get you qualified and help along the way plus much more so you feel totally supported.
You will have all of your business and nutrition coaching with myself & Kelly Reed-Banks who will take you step by step through the whole training process.
Posted on