Our Elevate online group with Rachel Holmes are in their final month and now really understanding their body as far as nutrition, health and wellness and what works for them!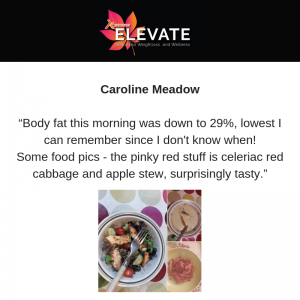 Elevate was a programme created by Rachel Holmes to provide information, daily coaching, nutritional protocols and guidance on HOW to reach your wellness, weight loss and health goals- not just impacting weight but sleep, stress, mental health, positivity and much more!
Our very own diet detectives are seeing fantastic results read more below and see what goals they have set for the week ahead: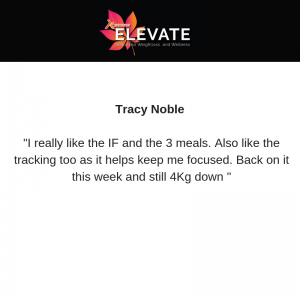 Caroline Meadow
"Body fat this morning was down to 29%, lowest I can remember since I don't know when!
Some food pics – the pinky red stuff is celeriac red cabbage and apple stew, surprisingly tasty."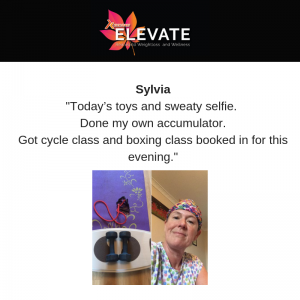 Tracy Noble
"I really like the IF and the 3 meals. Also like the tracking too as it helps keep me focused. Had a virus last week so have not been doing morning workouts but did go walking 3 mornings instead. Back on it this week and still 4Kg down 😊"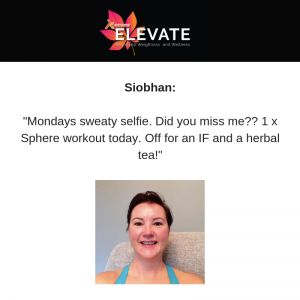 Helen Brown
"Well what can i say!! I have worked out 6/7 days this week and walked 10000 steps or more daily, i do pilates stretches every night and attend a pilates class every Thursday.
I started this journey with Rachel way back in July when i did a 7 day sprinter and my goal originally was to lose weight,But since then The 'weight loss' has taken a bit of a back seat, per se, as my mindset now is that i need to be working out and staying healthy both in mind and body and as a result i make better food choices 80-90% of the time,! Dont get me wrong im still losing the weight but thats no longer my no 1 priority!
I wake up and think 'Lets think happy thoughts and do our best to have a great day '
Happy sunday all – i measure / weigh at the gym on tuesday so im expecting good things especially as my clothes are now getting too big!"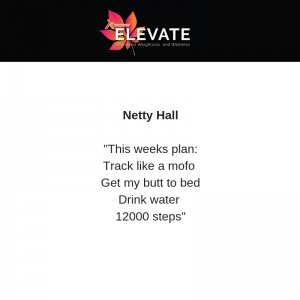 Adele Rose Stinton
Targets this week: 1 IF everyday. 2 No alcohol until December. 3 Kitchen closes after dinner. 3. Get up and exercise!!!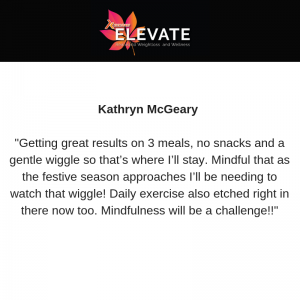 Claire Hilton
"Detox completed this week – 1.5 kg lost. Over the entire programme, although there have been a few ups and downs, total of 5Kg, so really happy. Clothes feeling loser and definitely more tone. Still lots more to go, but heading in the right direction."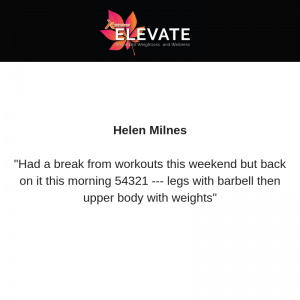 Siobhan Austin
"Fab. I maintained this week. Same weight, same measurements. That's fine by me this week. Back on my exercise this week now that the Lemsip regime is over 😁"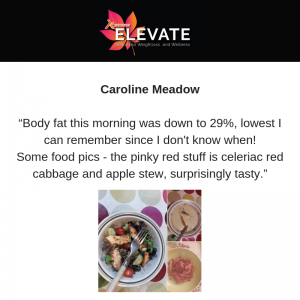 Louise Astbury
"Shocked that I've lost 1/4 inch of waist, hips & chest each! Surpassed weight loss goal 3lbs!"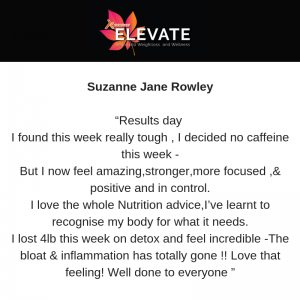 Suzanne Jane Rowley
"Results day
I found this week really tough , I decided no caffeine this week 😲
But I now feel amazing,stronger,more focused ,& positive and in control.
I love the whole Nutrition advice,I've learnt to recognise my body for what it needs.
I lost 4lb this week on detox and feel incredible 😊
The bloat & inflammation has totally gone !! 
Love that feeling!
Well done to everyone 🙌🏽"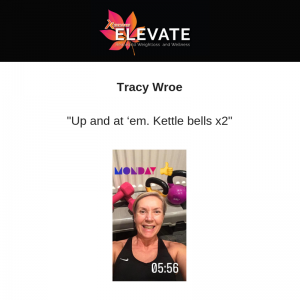 Andrea Gaynor
"So my results after a "Rapid Fat loss" week followed by a detox week ….
9 lb loss
7 inches lost
Feeling back in control again and when I get by Nutrition back under control and I feel I'm winning .. I can handle other areas of my life much better.
Energy levels have improved despite not enough sleep!
Feeling better physically and mentally!
There is no final destination with this.
It's a constant effort.
It takes work, determination, focus and effort!!
But it's so worth it!
This group is such a great place to be. Although I've not been posting a great deal. I do check in daily and you girls are so awesome. Really motivating and inspiring!
Goals for the week ahead are to get back on the case with daily Workouts, meditation and headspace!!
Have a great day everyone x"
—————————————————-
UPDATE:
ELEVATE 2019 starts Monday 7th January and runs until Friday 14th April —- more details coming soon!
Posted on