WOW check out some of these fantastic results from week 1 Elevate with Rachel Holmes.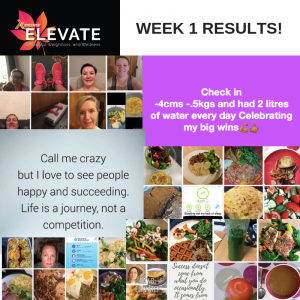 Elevate is a weight loss and wellness overhaul programme with Rachel Holmes online. The team have a daily selection of workouts and a nutritional protocol to follow, the nutrition is flexible and aims to help the team workout what works for them!
Read these amazing results:
Angie
Hi ladies! Feel on top of the world & full of energy today
Results day. 4lbs of the 6 I gained over Christmas gone.
Claire
3lbs and 7.5 inches off.
Pleased with that
Cheryl
I've lost 5kg and never measured myself. I'm going off the pictures I've taken. I've been not great at the workouts but feel more energetic, less bloated and have been consistent with drinking a minimum of 3 litres of water 😊
caroline
Results Ok, down 1.5lbs and 1 inch
Carmell
Morning all.
Well done on great results
3 inches down from stomach area.
Look leaner, feel leaner, scales are the same as last week (boo), but normally my weight loss doesn't show on those "scales-are-for-fish-scales" straight away anyway, so not worried at all ,
Claire
Workout done.
Great motivational this morning!
Lost 1.5kg this week, so pretty much back to pre-Christmas Elevate results. 1.5cm lost.
Sophie
Afternoon elevators!
This week, 2lb's down & a 2″ inch loss. Feeling stronger, freer, less bloated by a million miles, and back in the game!
Emma
So weight is down to 11st9 so 5lbs down. Overall 4 inches off so not a bad start!
Sarah
My brunch! Small afternoon seaside walk was very windy but feel so much better for some sea air! Chicken breast and veggies cooking for dinner.
Not done my measurements yet but I have lost 3lbs this week, very happy with that considering how I am struggling with my injury and exercise 🤗
Jacqui
Pretty decent week. Lost 3lbs, ate something green every day (my self imposed daily goal), had my 2 litres of water every day.
Louise
Really enjoyed week one and getting back into the swing of KSFL having followed the programme through a local group a few years back. Never thought I would stick to doing a workout every morning but I have done them all and feel so much better for it. Had a really demanding week at work, working lots of extra hours but have avoided stress eating and felt more mentally alert and focussed with lots more energy. Just jumped on the scales and weighed in 5.25lb lighter which has given me lots of motivation for week 2. Am not brilliant at posting in the group but read all your comments and tips which give me lots of encouragement. Good luck everyone for week 2. I've got an annual girls weekend away at the end of this week but am determined to stay on track and not undo it all but still have some treats x
Andrea
TOTAL Weight Loss – 3 kg
TOTAL Inch Loss – 3 inches
Feeling much better than this time last week!!
* Much less bloated
* More energy
* More focused and productive
* Happier and more confident
I'm so happy to be here 😀😀😀
Posted on