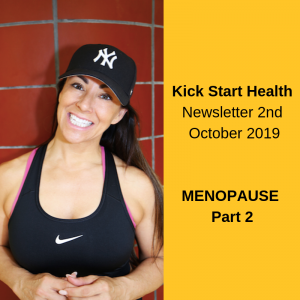 Kick Start Health Newsletter 2nd October
MENOPAUSE Part 2
What an incredible response from last week's Kick Start Women's Health newsletter, so, here is part 2 in the Menopause series. Thanks for all the feedback and comments and keep the coming.
NEW Podcast the Menopause, HRT, the NICE guidelines and managing the Menopause with Guest Jane Dowling Of Menoandme
I was so excited to have Jane Dowling of Menoandme on the podcast. As a Fitness Professional and Clinical exercise specialist, I reached out to Jane to discuss the updated research on the Menopause, HRT, the Nice guidelines as managing the Menopause.
Sign up for Janes newsletter Menoandme.com
and please let us know what you think and if you have any questions for part 2!
Have you had a look at the NICE Guidelines?
Read exactly what the NICE guidelines are in relation to the menopause and the NHS.
https://www.nice.org.uk/guidance/ng23.
I hope this newsletter helps and we will explore ways to support and help you during this life phase.
Best Wishes
Rachel
Are you A FITNESS PROFESSIONAL would you like to offer an online Womens Health and Wellness Programme click here for details
Posted on