Hello,
Join My Pre Christmas 5 Day Lift Lean Challenge Group On Whats App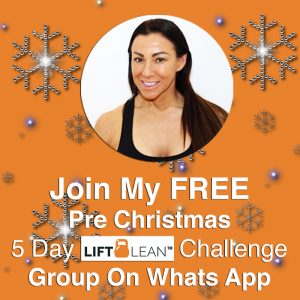 The last 8 weeks of the Kick Start Women's Wellness newsletter has been focusing on the menopause and menopause symptoms.
I've written lots on the importance of exercise, weight training and nutrition so this week I'd like to invite you to join my free 5 Day Lift Lean Whats App Challenge and put it all in to practice.
I'll be uploading a daily nutrition plan specifically aimed at the menopause via a short video with daily coaching tips and a Lift Lean Home Strength Training Workout.
You will be able to ask me questions and chat with other women all doing the challenge and its only for 5 days.
Whatsapp groups can be crazy but the community they build is amazing!!
Here is the link to join
https://chat.whatsapp.com/F98tyc1PcKs6XilCDHeV5P
When you go into the group you won't see any chat, so just say Hello and intro yourself and I will begin posting from WEDNESDAY EVENING. The group has the capacity for 257 so they fill up quickly.
Also, switch off your notifications for the group and the notification sound for the group and I'll explain why in the group.
I'll be chatting about nutrition, supplements, time management, mindset and motivation all as it relates to all stages of the menopause.
Hope to see you there.
Kind Regards
Rachel x
***Menopause RESOURCES**
Highly Recommend Dr Louise Newsome's Blogs and Podcast she is also on IG as The Menopause Doctor.
Meg Matthews Megs Menopause – Website and Blog are great resources.
Menopause Matters is a great website with Dr Heather Currie.
Join my Menopause Membership Online Programme click here
To read the last 7 parts of my menopause series head to KickStartFatloss.net or follow my  KickStartFL  Instagram for daily tips.
I hope you are enjoying this series on menopausal health.
Are you A FITNESS PROFESSIONAL would you like to offer an online Women's Health and Wellness Business?
Check out the following Fit Pro courses to create online programmes for your clients and build your online business.
**Here are the 5 Key Programmes**
*Want to purchase more than 1 email me for a special offer?*
Lift Lean™ – The Strength Training Programme For Women. Can be delivered as a LIVE class or as an online programme. Click here for details Includes the bonus course How To Create Your Classes Online Course and healthy eating 5;2 Plan This also has a Menopause updates video.
The 90 Day Women's Health and Wellness Programme
. Covers holistic health, lifestyle, weight loss and wellbeing including Nutrition, Workouts, Sleep, Stress, Hormones, Motivation and Mindset. CLICK Here for the details
PRIME 2020 – Menopause Weightloss, Health & Fitness.
Weightloss, Nutrition and Workouts For Women in The Menopause Phase Of Life – A full programme including daily workouts, daily nutrition video plus Menopause Information Updates Click here on offer
PLUS 15 BONUS BEGINNER HOME WORKOUTS & Fitness Pilates Workouts 
Intro Videos Include
What To Eat
Explanation Of Various Nutrition Protocols.
Importance Of Sleep
What To Expect In Elevate.
What Happens If You Go Off Track.
Daily Nutrition Video and Daily Workouts.
Want To Offer Shorter Programmes or get my full starter package including 7 Day Sprinter, 7 Day Midsection Meltdown, 14 Day Sprinter, Prime AND ELEVATE plus How to set up your classes online course
Click the Kick Start Coach Certification (CIMSPA APPROVED)
Programmes to help you build a successful, profitable and sustainable fitness and lifestyle business in 2020.
Question DM me or Facebook Message
Good Luck
Rachel
Posted on