JOIN Our  Kick Start Super Boost 8 WEEK Transformation Starting Tuesday
Only £97 If you book before 27th April Click Here
What is Kick Start all about?  It is a diet and fitness class with a difference 🙂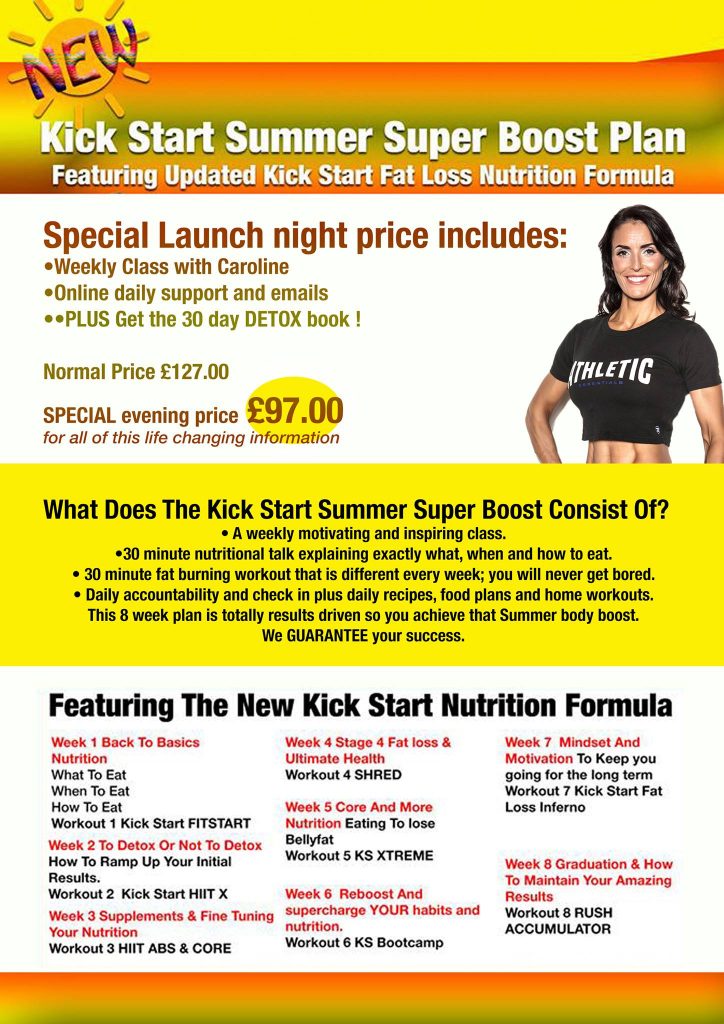 If you missed the launch and really want to get your health and weight loss on track then 
I'd love to offer you the course at the launch night price.
If you have been struggling with weight loss and feel like  you need a real structure to get you back on track then 
Kick Start is for you.
Caroline Hague is an amazing coach and former Fitness Competitor, Mum and works full time, she has completely transformed her own body and health and
will be doing the same for you.
You attend a weekly class – Every Tuesday 7 – 8pm which comprises of a 30-minute nutrition talk then 30 minutes of exercise.
ALL abilities are catered for, so don't worry if you haven't trained for a while.
We help you everyday wit meal ideas, recipes and how you can fit Kick Start into your busy lifestyle.
We will be covering topics such as this Plus all of the nutrition basics.
Week 1 Kick Start Transformation Nutrition Introduction and How It works
Week 2 Hormones Health & Happiness Talk – How To Get off Sugar
Week 3 Mid Section Weight Gain How To Stop It
Week 4 Mindset, Food Behaviours, and Motivation
Week 5 Supplements Intermittent fasting 
Week 5 What impact does Dairy, Wheat, Gluten, Soy Have on Your Health
Week 6 – Is Your Sleep Damaging Your Success
Week 7 Is Stress Causing Your Weight Gain – How To Manage Stress and bring Down Cortisol
Week 8  Moving forward how to reintroduce foods back into your diet and how to continue.
You also get 3 Recipe books and manuals.
Access to the Private Facebook group

Daily Coaching From Caroline and Rachel

Weekly class and accountability.

Complete support for the 8 weeks.
all this for ONLY £97.00