ONLINE
COACHING
Specialised 1-to-1 nutrition and wellness coaching
Kick Start Fat Loss is offering a bespoke Online One To One Nutrition and Wellness Coaching Service for our clients who want a personalised service.
What Is Online Coaching?
It is a 28 day programme which includes a 60 minute Skype/ FaceTime consultation where you go through goal setting, your aims, objectives, expectations, outcomes, personal choices, lifestyle, medical, history, personality, current nutrition, dieting history, activity levels, and workout preferences.
Your coach will then create a personalised KSFL Plan with recommendations and how to implement to reach your goals.
You and Your Coach then schedule 4 x weekly 45 minute calls. Moving you though your journey, providing support, guidance, motivation, tweaking your diet and exercise plan every week. Your coach would send your appropriate online workouts to do plus check in with your via text message / social media for accountability.
Is One To One Online KSFL Coaching For You?
Have you gone as far as you can on you own?
Do you need a more personalised service?
Do you need one to one accountability ?
Do you need weekly tweaks and personal updates?
Have a chat with one of my KSFL coaches and see if this works for you. It's free!
Fill in the form below and I'll send you a list of Kick Start Fat Loss Franchisees Coaches including their speciality(s), qualifications and social media details you choose who you think is the best fit for you and schedule a chat.
There is NO obligation just see if you have a fit together.
Error: Contact form not found.
If you think it is for you GREAT.
For this initial trial we are offering a 1 month bespoke programme for £99 which includes:
1 x 60 minute Skype/FT to access your lifestyle, nutrition, activity levels,
Your coach will then create your bespoke plan.
4 x 45 minute weekly follow up calls assessing you progress and making tweaks.
In 4 weeks you could be seeing the EXACT results that you want.
This has the potential to be life changing for you.
Who Are The Kick Start Fat Loss Coaches?
ALL the KSFL coaches are KSFL Franchisees who have been trained by me personally.
They all teach Live weekly classes all over the UK and hold online KSFL programmes.
They are all specialists and LOVE Helping people like you reach their goals.
Meet the Kick Start Fat Loss Online Coaches
Kelly Ravenscroft- KSFL Franchisee for Sutton Coldfield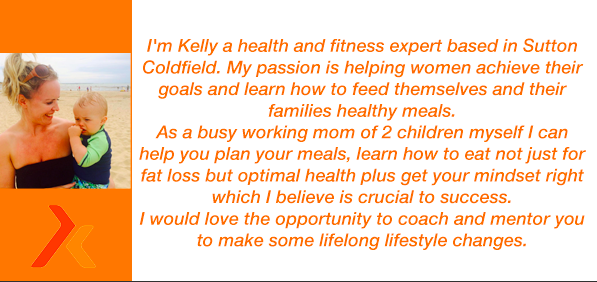 Liz Lane- KSFL Franchisee for Maidenhead