Do you need some inspiration?
Do you want to know where to get started with your nutrition?
Take a look at the breakfast, lunch and dinner recipes and ideas on this page!
Breakfast Ideas
Eating a lunch style breakfast is the key to fat loss and ditching the staple of cereals, tea and toast.
Don't worry too much about variety, most people eat the same breakfast cereal or porridge every day for years and years.
Scrambled Eggs and lean Bacon / lean turkey rashes / tomatoes /
Stir fry veggies/ meat/ prawns- Yes, I know this seems bizarre but so easy to prepare and cook in minutes ensures you get all your nutrients, Protein and packed full of good carbs to keep you going for hours.
Vegetable soup – Easy to make the day before just reheat and serve.
Fritatta – This looks like a crustless quiche. Fill a pan with veggies and meat of your choice add eggs and cook in oven for 30 minutes. Serve in slices warm or cold.
 In a rush? Take boiled eggs with you, make a frittatta or breakfast muffins the night before to eat on the go
Breakfast Muffins
I just fried some bacon, an onion and red pepper together then added some spinach, beat 8 eggs, seasoning. Added bacon mixture to eggs, poured into muffin cases, added some torn up basil then baked at 180 for about 20 mins. Great for breakfast on the go.
Breakfast is always the hardest meal for many people starting Kick Start Fat Loss – Giving up your cereals and toast can be a challenge or you may have a family  to sort out and feed before you can even think about your own food. Starting the day with a protein rich breakfast is the way to balance your blood sugars and keep hunger at bay it will also stop you craving carbs for the rest of the day so persevere with your eggs in a morning!
Banana Omelette      
Omelettes of all descriptions
Eggs Turkey Rashes and Spinach
Protein Pancakes
The Kick Start Fat Loss Breakfast needs to be protein rich but do add in some good carbs  such as berries and nuts to feed your brain.
Spinach Omelette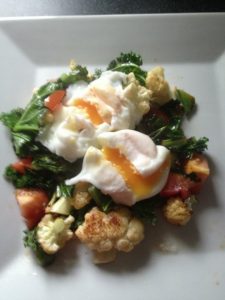 Poached eggs on Cauliflower & Broccolis bed
Tomato Omelet and salad
Mackerel & Avocado Salad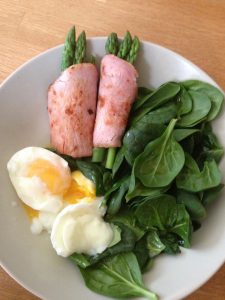 Soft Boiled eggs spinach and asparagus
Salmon salad
Trout Fillet, boiled eggs and mixed salad
Lunch and Dinner Ideas
Anything goes as long as it is food from the shopping list you can make it up hower you like.
Avacado-prawns-1-slice-of-bacon-fried-off-in-coconut-oil-with-the-avacado

Grilled lamb, stir fried veg in chillie . Pine nuts n spinach .
Grilled aubergines, baby spinach ( a little balsamic mmmmm)) scrambled eggs with salmon and chilli
Packed Lunch Ideas
Turkey and Bacon stiry fry – cold in a lunch box
More Detox Recipe Ideas
Download below: