Add your email for up to the minute info on KSFL diet & detox, Juicing,
Fatloss tips, Home Workouts,
Positive Self
Love, Affirmations & Happy Lifestyle
Updates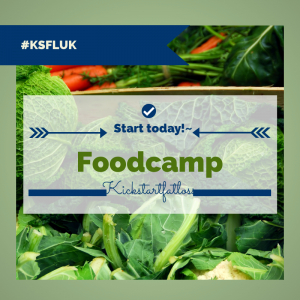 #FOODCAMP 4
How are you doing?
Sticking with my KSFL #FOODCAMP Tips
here are more fast KSFL fatLoss tips.
1: Choose Almond, Hazelnut, Coconut milk
over cows milk.
2: Use coconut oil to cook with & virgin
olive oil to dress food with.
3:Struggling to get all your greens in?
Try Juicing your veggies. Here's
a link to the KSFL Juicing info
4:For fatloss stop snacking & grazing
though the day. Eat 3 meals only & after your
evening meal, close that kitchen!
5: Sleep is key. Too little sleep, waking up tired,
not going to bed early will cause your cortisol
to rise & get your craving carbs & sugar
like a maniac.
6: Fruit contains sugar so you need to go easy
on fruit. My view is fruit is the reason many people
"think" they are eating healthy, because they eat loads
of fruit, but continue to put weight on.
Fruit will cause a huge hormonal spike so eat more
vegetables & a lot less fruit.
Children Eating Clean
I've had a multitude of questions about children
& KSFL clean eating.
The best possible thing you could do for your children
is to NOT give them cereal for breakfast & feed them a
predominately clean diet.
But,
I appreciate the power of food advertising & marketing.
Therefore, I realise it's not that simple.
Research shows us without doubt, that sugar,
processed food & gluten are linked to all kinds of
attention & behavior issues in children.
We have been talking about children eating
clean on the Facebook.com/KickStartFatLoss
so if you would like to join in the conversation.
Please jump in.
Todays Affirmation
Is from Gaby B's new book Miracles Now.
Miracle number #53
"Value Yourself & The World Will Value You"
Eating a clean diet, working out & taking
time out for stillness is because YOU
Value Yourself.
Treat yourself as if you are you very best
friend. Practice self love & being
the very best version of you.
Have a wonderful day & I look
forward to connecting with you on Twitter
& Facebook.
Let me know what you think about
clean eating & children.
Happy Thursday
Love Rachel xx
YOU can NOW sign up to my next
Kick Start Fat Loss Online Course

which starts on Tuesday 6th May
for 10 days.
I will ONLY be running one in May
so do jump on if you need a more structured
& daily plan.
It is £37
Here is the link to book
https://choreographytogo.infusionsoft.com/saleform/nathniulf
Add your email for up to the minute info on KSFL diet & detox, Juicing,
Fatloss tips, Home Workouts,
Positive Self
Love, Affirmations & Happy Lifestyle
Updates
Posted on