Meet Helen Tite KSFL Cornwall Franchisee who found KSFL changed her whole mindset! KSFL is now her business and she loves supporting others in reaching their goals as part of a growing team.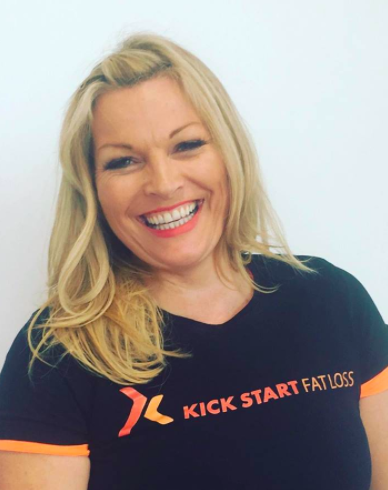 Why do I want you to join my diet club?
When you have done all the diets, joined and spent a fortune on the two BIG national chains, (you know the ones) one club I spent choosing which colour days I wanted and other was too much maths for my liking!
Then I tried the dodgy pills, strange shakes, cabbage soup and so the list went on…
What I didn't understand was food is nourishment and that I am not a dog that needs rewarding. When you have weighed your clothes to figure out which is heavier on weigh in day and when you have had emergency last minute wees and poos to ensure greater weight loss and still fluctuate then it is time to get a reality check and start to live life, understand food and get a grip.
It is not a game, weigh in day is a joke! I was celebrated if I lost a pound and shamed if I stayed the same. What about my relationship to food? What about my hormones? Why am I craving food? Why is it all a battle? What about moving my body?
After a lifelong battle with food, I am now a champion with KSFL and I want you to stop the madness and be brave enough to jump ship for a little while. I have studied nutrition and also have a daughter with Type 1 Diabetes – I am an expert in reading food labels and knowing about carbohydrates!
Why do I want you to join my club? Because I have been there, I totally get it and have learnt the hard way. I want to pass on that knowledge with you.
I don't have to know of your experiences fully, I do understand health well, I understand oestrogen and menopause, I understand losing weight for goals and I really understand type 1 and type 2 diabetes! Oh and finally I'm a size 14-16 and love it. I represent regular curvy women and I love it. I have stopped worrying about what you think about my body and shape as I am stronger, healthier and fitter both physically and mentally than ever before.
I run online programmes for Time, flexibility and the ability to reach more beautiful people. If living in Cornwall we have even joined forces the Cornish Food Box to get food delivered to your doorstep to make life even easier!
I run live classes and have great success with teaching fitness, I also have a secret Facebook group where we will live stream support and exercises.
I have an amazing team who get the KSFL diet. We struggle, we battle and celebrate all the goodness around great recipes, ideas and feeling fabulous.
The KSFL Franchisees are like a big support group, they are always there to listen, help and inspire and this is how KSFL works… it is a COMMUNITY.
Check out my website: www.KSFLCornwall.net
Do you want to offer KSFL in your fitness business?
Do you want to be your own boss?

Posted on