I came across KSFL whilst I was recouping from having my gallbladder out ! Bored stupid I decided to go through lots of my unopened emails- Rachel's being one of them… 'oops' …and there it was all the info on how to become a KSFL Franchisee……..when I read through the content I had no doubt that this was the nutrition programme I wanted to offer to my clients….why ? Because it's sustainable long term.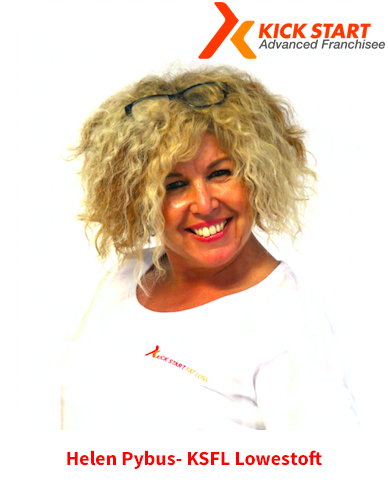 I have always been a person who has struggled with weight issues , I even got bullied at school. I have tried every diet going and every quick fix pot and potion, counted every calorie sin and point, I just got fatter and fatter…..until clean eating , quitting sugar and processed food was researched and I've never had to diet or count anything since.
Being a KSFL franchisee is the best thing I have ever done as lots of my clients come to my classes with body weight and body fat issues so its great that I can now marry up their exercise with optimum nutrition. I'm also very proud to say that I have coached the top 2 KSFL biggest losers, one at 10 stone and one at 8 stone, feeling you are partly responsible for changing somebody's life like this is the most rewarding feeling ever.
I only deal with small groups and not the masses, this is my choice as I want to give my clients individual attention, I get to know them inside and out.
I am now entering my 4th year as a franchisee and KSFL is really established in my town Lowestoft, I have 2 sub contractors who work with me running their own KSFL groups too, we make a great team, moving forward I am working on building my online programmes that Rachel has created for us.
As well as being able to offer a great nutrition plan to my clients working with Rachel has been the best thing ever, everything she guides us through about running our KSFL has had a huge knock on effect on my Pilates and Fitness business. I've never looked back !
YOU CAN DO IT TOO
Do you want to start a fitness business but don't know where to start?
Do you want to add another level to your fitness business?
Do you want to support others and work as a mentor?
Do you want coaching/ support and to gain qualifications in nutrition?
Do you want to be your own boss?
Do you want to CHANGE LIVES?
Chat to us about becoming a KSFL Franchisee
Posted on