Rachel Holmes Studio Live
⚡Live programme in the Facebook group with daily videos, coaching and community⚡
⭐ AMAZING VALUE ⭐
For only £35.00 a month you get access to all of this: (worth over £150.00!)
✅Brand new HIIT & Intervals Workouts every single day – LIVE on FACEBOOK.
✅Full premium access to the Rachel Holmes APP is included and bonus training & workouts in the RH APP including BIKE Beats – Run Club & Power Walking Classes.
✅Plus you get access to 3 unique Zoom Evening Masterclasses every week.
✅Accountability & community, health talks and recipes in the exclusive Studio Live Facebook group, all pushing forward together to feel happier, healthier and positive!
✅ Watch the daily work out live at 6.30am or via replay at any time.
JOIN IN TODAY FOR AMAZING CONTENT AND VALUE
You can cancel your subscription at any time
Rachel Holmes Studio LIVE
Every morning LIVE IN the FACEBOOK Group a Unique Interval Workout
Workout with Rachel LIVE every day – A new workout every day
PLUS weekly nutrition, recipes and healthy challenges run in the group.
——————————————————————–
Studio Live Timetable from 16th May
Sunday 16th May 6pm Fitness Pilates Ring
Monday 17th 1pm All the Balls Body Conditioning IDEAS With Mini Balls & Spiky Balls
Tuesday 18th 1pm Fitness Pilates For Golf
Thursday 20th 1 – 145p. *NEW IDEAS* SINGALONG Run Club Through the Decades Using Pure Energy PLUS
FRIDAY 21st 11am Aqua ideas Volume 2
630am Workouts
Monday 17th The 24 Workout Body Strength & Power
Tuesday 18th Upper Body Tone Tuesday
Wednesday 19th Accelerated 30 60 90
Thursday 20th. Step HIIT & Run
Friday 21st LIFT LEAN STRONG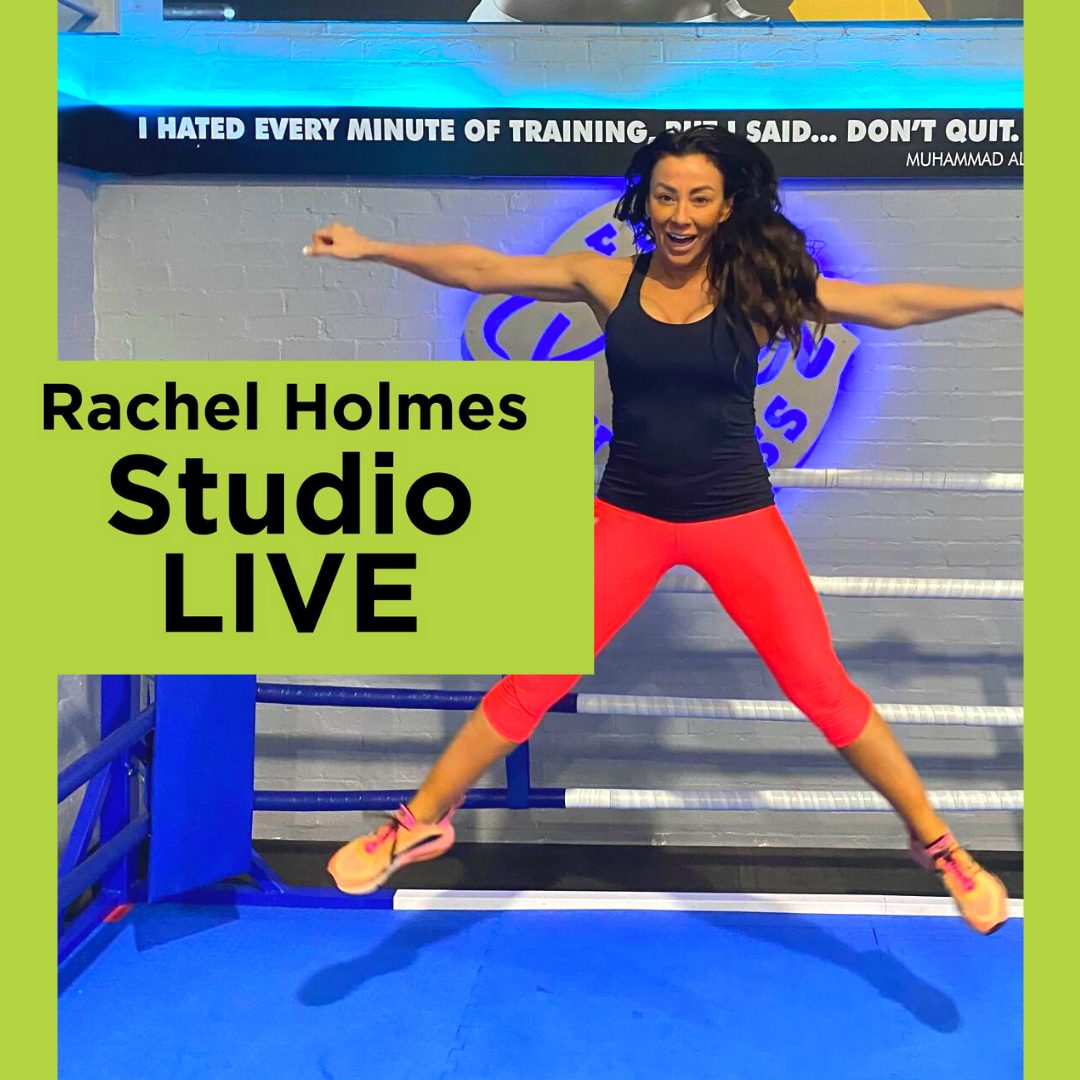 Rachel Holmes Studio LIVE Membership
⭐AMAZING VALUE⭐
£35.00 per month.
Train with me in Studio LIVE every day.
Look at this weeks timetable.
🎉PLUS
You get 2 BONUS MASTERCLASSES🎉
🌅MORNING CLASSES LIVE 1T 6:30AM🌅
JOIN IN TODAY FOR AMAZING CONTENT AND VALUE STARTING 1ST MARCH 2021