Welcome and THANK YOU for signing up for the 30 Day Sugar Free Detox!
Join my private Facebook Group for support and coaching 
https://www.facebook.com/groups/845793672151353/
Post and tag me on Social media and let me know you are IN IN IN
#KSSUGARFREE
You will get daily emails and motivation from me to help you through the programme. 🙂
Hello and welcome to the 30 Day Sugar Free DETOX Page week 1
Please make sure you watch the daily videos, listen to the audios, podcasts and all of the information.
I will also email you a daily email but in case you miss it or it gets lost I will always post the days instructions here.
Are you blogging?
If you are Blogging can you post on my FACEBOOK wall www.facebook.com/kickstartfatloss
or Tweet me @RachelHolmes @KSFLUK your blogs details or in the comments below here. I would LOVE as many of you as possible to blog it will really help your progress, commitment and accountability.
The whole challenge will be so much fun, hopefully you will enjoy it and learn a lot about nutrition, fitness, working out and mind set PLUS gain the tools to make some real positive changes in your life.
Enjoy the ups and downs of the journey.
LOVE RACHEL XXXX
Here is the first week of content: 
Have a read and watch all of the videos thoroughly.
Let me know you have signed up
Also check your inbox for more recipes, motivation, workouts and SUPPORT to get you to where you want to be!
Let's DO THIS!
Here are some videos to get you started: (scroll down for day 1 and the start of your programme)
Here are some great interviews:
Rachel Holmes talks Blood Chemistry Analysis With Phil Richards

Fabulous Interview With Metabolic Effect's Dr Jade Teta

How To Reduce Anxiety & Stress Naturally with Anti Anxiety Food Solution Author Trudy Scott

Are You A Sugar Addict? Interview With Dr. Sam Shay

What Is Functional Medicine and How Can It help You – Interview With Sandra Scheinbaum


BASIC SHOPPING LIST 
Remember this is not my KSFL strict detox.

It's a daily do-able challenge with the emphasis of cutting out sugar.
I will tighten up the diet and food as we go on.

But of course once you get off sugar you will see and feel some serious transformations!
A wide variety of meats including chicken, turkey and beef
A wide variety of Fish including cod and salmon
A wide selection of veg including root veg
Almond Milk instead of cows milk
Almond, Hazlenuts & Cashews
Chick peas, lentils, pulses, sweet potatoes
Fruit – Berries.
Quorn is pretty awful. Google it and see what it contains – it's actually quite horrific so please cut this out as well as soy.
Don't buy:
Anything processed…Biscuits, cereals, cakes, sweets, crisps, bread, pasta,cheese – You will only eat it if it's there.
Cook with
Coconut oil or if possible or high quality virgin olive oil.
Take your measurements & photos from all angles.
Bust, Waist, Hips, Each Thigh, Each arm.
BOOZE – At the end of the day it's sugar and your liver treats it as a toxin so the minute you drink
the body stops burning fat and concentrates on getting rid of the alcohol.
This is where you have to make a judgement call and decide if you want to go booze free for a few weeks to really smash your sugar cravings.
I don't want to tell you if you can or cannot drink on this plan.
Why don't you try 7 days booze free?
If you really can't then stick to high quality Vodka or Gin with soda or a Red wine.
Wine, champs & beers really will set you up for a massive sugar hit plus you will crave like crazy the following day.
Therefore, if you drink or not I will leave it up to you.
Here is your workout for Day 1 & Day 2
Day 2 BREAKFAST CHALLENGE
Please watch the video and listen to the audio
Are you blogging? Let me know your blog address
Eggs, bacon and avocado with salad/asparagus is a great start to the day as it will keep you fuller for longer.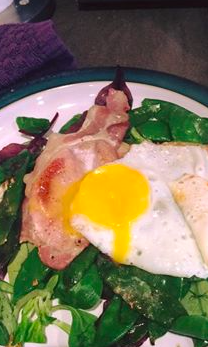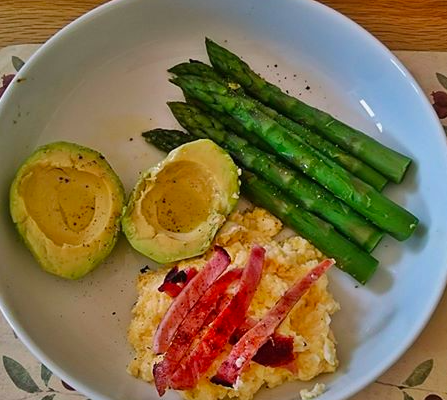 Make sure you comment on the Facebook.com/Kickstartfatloss or Twitter @KSFLUK
Day 3
Day 4
Day 5 It's the weekend!!Please watch
Great weekend recipes: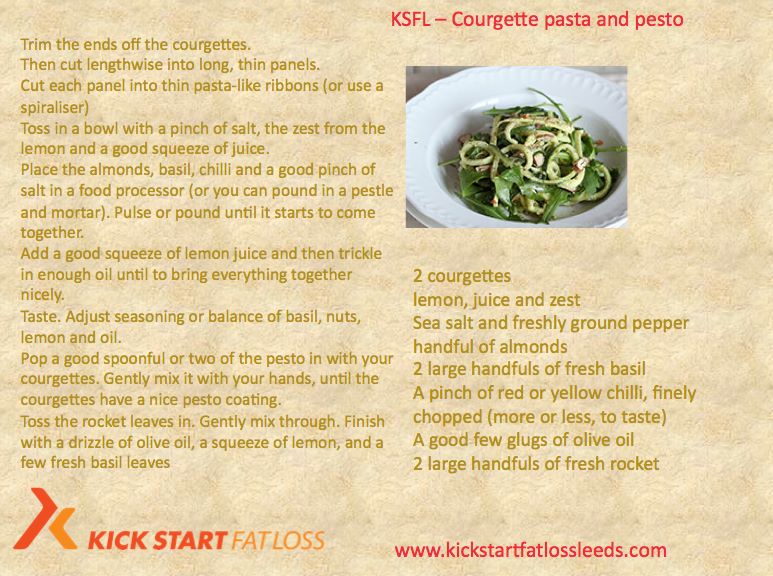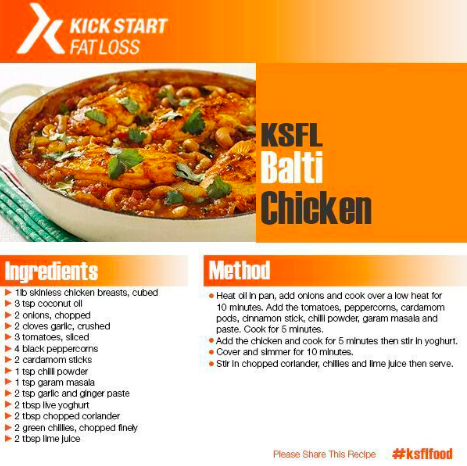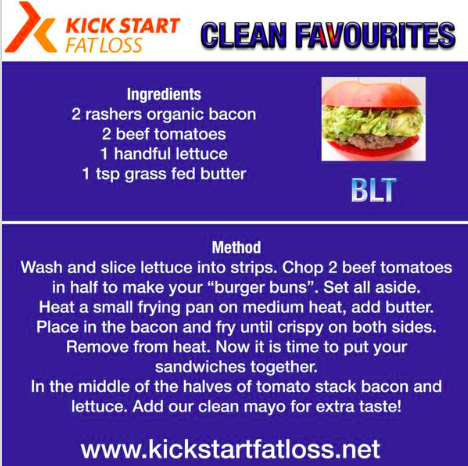 Day 6 and Day 7
Day 8
Day 9 and Day 10
More workouts to try:
Weekend Workout
and another one for you fittys
Day 10
AUDIO INSTRUCTIONS for DAY 10 Wednesday
How are you feeling?
I love to hear your feedback so please contact lauren@ksflgroup with your results or contact us on the Facebook group.
Going sugar free is a hard challenge and you are doing great… can you carry it on?
We have so many free resources for you on the KSFL Blog as well as on social media but if you would like to jump on another online programme CLICK HERE
We also have a large collection of recipe books from 10 minute meals to the clean curry book check them out HERE.