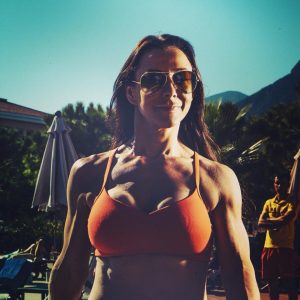 It's been a challenging week to say the least.
All of my online homes, Choreographytogo, Fitness Pilates & Kick Start Fat Loss websites have been severely hacked and have had to be taken down, but we are getting there and things are slowly getting back to normal. My personal #PMA has been tested this week I can tell you. Lots of talking to myself, affirmations and meditations have been the order of the day instead of swearing, screaming and crying. The site almost ready to come back up ou can get all of my updates via Facebook.com/Choreographytogo or my Twitter @RachelHolmes

But how about classes?  I've been doing some detective work, also known as stalking on Facebook, and see that many of you are experiencing great class numbers already! HURRAH!
I don't know about you but everywhere I have been over Christmas, whoever I have bumped into, the chat has been all about Fitness and Classes. Everyone I come into contact with seems to want more information and appears to be making an effort to make 2014 the year they get fit. Long may it continue I say.

As I've said in previous newsletters, everyone, and I mean everyone, wants to get fit, slimmer and more healthy.  OUR goal is to tweak our packages, services and marketing to fit what our customers and prospective clients actually want and are prepared to pay for.

Looking into my Crystal ball, I think that if you are the Fitpro who really wants to "Get out there" and create a strong business and increased income from fitness, you are going to have to get your brand online, build your profile as a public speaker and do talks & seminars locally. Only teaching classes is just one part of building your business and brand to becoming sustainable & profitable.

Be A Fitness Trailblazer

I absolutely LOVE this term…Fitness Trailblazer. Because that's what we all are. Leading fitness classes is a relatively new career in the grand scale and you can really create the classes, teaching and business that works for you. Maybe you have small children and you are teaching and PT'ing but getting ready to leap into a bigger businesses when the time is right.  Maybe you are a veteran and have been feeling a bit jaded with fitness recently? Maybe you are just teaching & PT'ing far too much and you are getting injured and depressed?
Well, now is the time to become a Fitness Trailblazer and create the teaching lifestyle that works best for you.

We all have limited time and if you want to ensure you maximise every minute when working on your business & teaching, here are my tips on productivity and becoming a Fitness Trailblazer.

1.GET UP feeling positive. Instead of bleary eyed waking up to my iphone then reaching to check social media before I get out of bed. I now read a passage from May Cause Miracles book, say an affirmation and have a quiet little meditate. This helps me focus on the day and sets my intention for the day. I find if I always do this, my day goes so much better. 100% gsive it a go.

2.Shorten Yor To Do List. I've shortened my daily to do list. I still have monthly and yearly goals but now I break down daily tasks into things I HAVE to do that day. There might be 3 things that I MUST do and then a list of 4 or 5 that if I get to, is a bonus, endless todo lists just don't work as I never feel finished for the day. I always have to keep nipping back into my office so now it's stop, that's it, when I've accomplished those crucial tasks.

3.Light a Candle. I got this tip from Jenny Burrell and it's to light a scented candle when I start work and only blow it out when I'm done. It's a lovely "lady touch" and it's fab, very symbolic.
Thank you Lady J.

4.I have my daily tasks in front of me on my white board. When I look up I see them, it reinforces them and keeps me in check if I wander off down Facebook highway!

5. I keep focusing on my end Goals. Every day when I'm asked to do something, I think, is this taking me closer towards my BIG Goal or is it taking me off track. If it takes me off track I'm not doing it. Time is so short and I am driving towards my big goals as fast as possible. It's all about those priorities.

6.Get into the positivity groove. Smash the negative self talk, if negative chat in your own head is holding you back then you need to address it right away. Get onto the positivity train, treat yourself to some serious self love and feed yourself happy thoughts. You probably eat clean and do your workouts but are you feeding yourself good, healthy positive self chat…..mmm maybe not..well, you need to work on it.
Read positive books, listen to positive audios, hang around with positive people even if it's online and every time you catch yourself judging, critiquing, self hating, STOP it in it tracks, acknowledge the thought then replace it with a loving thought. It's only practice.

7. SHARE your message. Be the shining example, be the role model, helping others with health and fitness is an amazing gift. Spread the love and lets all be grateful we are working in a profession we love 1000%.
Twitter Tips for Fitpros

I have to say that Twitter is fast becoming my favourite social media platform because it's just that… social.
Facebook is kind of becoming a notice board but with Twitter you get real conversation, interaction and engagement.
I like that.
I love jumping in commenting, having banter and getting involved on Twitter and it's such a great place to network and say Hi to friends, customers, clients, prospects, famous people, the media, potential sponsors and uncle Tom Cobbly and all!

On Twitter you can, pretty much initiate a relationship with any one and most of all your contacts and customers.

I also cannot recommend highly enough one of my more favourite and inspirational entrepreneurs Gary Vaynerchucks new book:
Jab Jab Jab Right Hook who explains exactly how to work social media.

The idea is NOT to keep pumping out mind numbing "My Class tonight is 7:30, Everyone Welcome come on down" but provide lots of useful tips, tricks, insight and great content that your followers are going to LOVE and when they see your tweet in the news feed are going to want to stop and read it. It needs to be compelling!

1.#TRENDJACKING use the search box in Twitter and find out what's trending. On Sunday night the search #DETOX was trending so when you searched for that term millions and millions of tweets come up using the #DETOX so guess what, I jumped in and tweeted people back saying
"Hi  (Insert Twitter handle) I have a great 7 day online detox called #KSFL check it out"  I'll tell you, it got me A LOT of additional business on Sunday night.

2. Read the papers, surf the news websites and blogs and always check the Huffington Post they are always using cool # and there are plenty of fitness, health and fitness quotes you can comment on. This is a great way of flexing your muscles as an expert with an expert opinion.

My gut feeling is Fitpros aren't using Twitter anywhere close to its full advantage. If you are a Personal Trainer you can reach out to ANYONE locally in your area and offer your services. I thoroughly recommend Gary's books as he really hits it home on how to leverage your brand and services on Social Media.
Let me know what you think, and to be honest if you want to get a quick answer, quote or banter I ALWAYS get back to you on Twitter it's just so easy from your phone. Tweet me @RachelHolmes
New Level 2 Aqua course on C2GO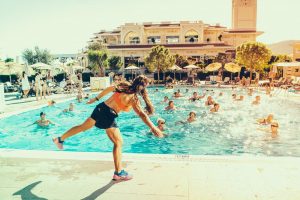 In a week full of ups and downs, finally getting the Level 2 Aqua qualification online has been a major UP for us here at C2GO. Aqua Instructors are humungously sought after ALL OVER the UK.
I don't think I know a centre or gym that doesn't need more Aqua qualified Instructors for cover and classes. Courses are so thin on the ground and often get cancelled at the last minute so now I am proud to say you can qualify with the Level 2 completely online.
I am running it at an introductory offer until Saturday so you can bag it and then complete at a later date.I'm offering the course at £360 + VAT with it going up to £440 + VAT after Saturday .
Click here for all of the details
Do You want to be a Level 3 Pilates Instructor? Our course next course is in London on 24/25/26 January 2014 You can book in full
here click here




Why You Don't Need To Give Up Chocolate…EVER!
By Jo De Rosa

Christmas Eating Frenzy.  Hands up who sat in front of the television watching a load of rubbish and eating their body weight in crappy food over the holidays? We had the whole family over at Christmas and I had carefully laid out plans nutrition-wise, but my father-in-law managed to veer us all slightly off course (some more than others!).

My master plan was in the form of Nakd raisins and Nakd 'Bars' and 'Bits', all sprinkled in pretty white square bowls and placed strategically around the house! Now if you've not come across the Nakd brand then you must: yummy raw snacks that kids and adults love love love and are widely available in all supermarkets –brilliant! In our house we always have these products en mass for the kids and for our retreat customers (and us!), and do not entertain commercial chocolate ever. The kids have got used to it, and no one misses Galaxy or Cadbury'sContraband.
So my plan worked beautifully until father-in-law turned up with party sized bags of salted peanuts, dry-roasted peanuts, and quite literally thousands of evil Ferrero Roche. We are not a usual household in as much as there were no chocolate selection boxes etc… in the kids' stockings, and crappy food is known as 'contraband' in our house. So when certain family members came over they smuggled some very naughty items into our house! Now I am all for a bit of balance in life so the bottle of Coke that was smuggled in and then consumed by its owner and also my step-son was overlooked, and I was inwardly relieved to see the 10 year old knew how bad he was being, and was totally cool with it being a one-off.
Festive Slob.  Once the family departed we immediately welcomed our Yoga For Addictions retreatants and hosted the Monday to Friday retreat over New Year. Wow it was amazing with unbelievably positive results, with lives quite literally being transformed! I cannot wait until the next one at the end of March….. So our clients left last Friday and my husband (who does all the cooking at retreats) and I collapsed onto the sofa for the first time in around 4 weeks! We didn't eat all rubbish, although the cheese did admittedly come out along with our raw veggie crackers. BUT, we sat in the same spot on the sofa ALL WEEKEND without moving. And by Sunday night I was brain-dead and body-dead. Everything seized up and I couldn't think straight, speak properly or have any inclination to communicate with friends or family….it was awful. I haven't been a slob for a long time and I have to say that feeling sluggish in body and mind for ?2½ days was enough! I couldn't wait to set my alarm on Monday morning and get myself up and motivated!
My Facebook and Twitter timelines have been full of people going back to work this week after a whole 2 weeks of slobbery, and I cannot imagine how sluggish their poor systems must be now. Here is what my daily routine has been this week to get back into flow:
1. Warm water with lemon, ginger and apple cider vinegar first thing to fire up my digestive system and clear the way for the day.
2. On alternate days: Raw chocolate drink which aids concentration and takes my meditation to the next level. As well as this the cacao that I use is totally natural with heaps of benefits and tastes yummy! We buy it directly from Guatemala and have started selling it at the Retreat Centre. 2. 30-60 minute yoga practice
3. 60 minutes of meditation
4. My yogic lunch consists of 2 poached eggs over steamed green veggies (different ones each day), or our homemade green veggie soup, and this is what we feed our Holistic Hotel customers too. I also enjoy Rachel's frittata's and other fab recipes that she regularly posts.
5. The working day begins!
6. In the afternoon I will either have a fresh juice or freshly made smoothie full of veggies and super greens to help with the afternoon dip in energy
7. Of course this is all washed down with lashings of filtered water throughout the day, and plenty of herbal teas.
Priority Intentions. What I am taking into 2014 as a priority is my own personal practice. It comes first, and I have changed my schedule around so that on most days I have the whole morning for this. When I do my practice the whole day is set up on this positive energy, and I feel that I get the most from my day. We all need to organise ourselves around what works best for us as individuals, and when you are self-employed you may have the flexibility to do this.

Chocolate Meditations We have held 2 weekend retreats in the last few months with the Chocolate Shaman while he was on his world tour. He is now back in Guatemala but left us nicely stocked up with his raw cacao! It is used to 'open the door to the mind' and he says it is up to us if we choose to walk through. I love the effect the cacao has on me, and I most definitely love fully embracing the openness I experience with it and plan to hold my own cacao ceremonies soon…. When you regularly eat raw cacao you will never go back to commercial sh*t again, and that is a promise! There is a maximum of just 20% of the original properties/benefits in even the best commercial stuff (Green & Blacks etc…), and when the raw cacao tastes so good why would you even bother filling yourself with a highly processed product.
THERE IS NO NEED TO GIVE CHOCOLATE UP, JUST EAT IT IN IT'S PURE NATURAL FORM… Our raw chocolate brownies and fudge are sublime, and everyone that tries them becomes instantly converted…yum!
Happy New Year again! I hope you are revved up and still on course for the best year yet in 2014! Next week tune in to: Intentions, creations, connections and meditations…
Web: www.innerguidance.co.uk Email: jo@innerguidance.co.uk Facebook: InnerGuidance Twitter: @Inner_Guidance Copyright: Jo De Rosa 2014


http://www.innerguidance.co.uk/
innerguidance.co.uk


My 5 simple tips and tools to use to increase productivity by Kelly Reed.
 
We are all very busy people with work, family, friends etc and yes it can be very easy to let other things distract us from getting things done and sometimes it can take us hours to get back to work. As most of you know, I like being a very busy lady with holding down different jobs in my working week, however I am just as bad as the next person for getting distracted, especially with social media and the fact I now have a 5 month old Bull Dog puppy who can amazingly take up hours of my time without me even realising it. This time of year we all try to make changes so myself and Rachel thought this is the ideal time to share some of my ideas that really work for me to say motivated, productive and on task. I use these not only at home but also at work in college so I am hoping they can help you too!
 
1. Get rid of any clutter or mess!!
Any mess can create more stress and this is a fact! So make sure that your office or your room is clear & free from clutter! I am a little OCD about having a tidy house which drives my hubby insane as he could quite easily live in a pig sty and not bat an eye lid. My desk at work is always tidy and so is my office at home. Wherever you are trying to work, make it feel chilled, clutter free and relaxed as remember this is where the magic happens!!
 
 
2. Make a TO-DO List
I know this sounds old school, but it really works for me and you don't have to have it on paper, however I do love crossing off tasks once their complete!, There are some wicked apps around for to do lists! Wunderlist is great to keep to-do lists separate from email and other work programs. Write everything down you want to do that day and include timings of how long you want to spend on them. Have a structure to the day if you are working from home – as if you were in the office at a workplace; when I work from home I start at 8.30am which is the same when I am working at college. Use a timer to make sure you are not spending too long on one project and that you are taking a break – but also make sure that break doesn't turn into a whole afternoon looking at someone you have never even met, holiday pictures on Face Book!
 
 
3 -Do the worst item on your list first.
Everything else is plain sailing from there! I use to be terrible at this as a student as I would always do the essays I liked the best first or the one's which I thought were the easiest and then left the hardest ones till right before deadline date which made them feel even worse!!! Now I do the tasks which take me the longest or I know I need to dedicate more work to, first – that way, once their done you can wiz though the others!!
 
4 – Limit times on emails/face book/ twitter/ mobile phone etc. and have certain times of the day for them
Have definite times during the day when you check your messages etc., it is a good idea to switch off your email alerts, which is something I had wished I had done sooner as you find you are answering emails at 11.30pm at night or you see an email from work on a Saturday or Sunday that just puts a downer on your whole weekend! However, if you are a morning person, check your emails in the afternoon and in the morning concentrate on the things on your to do list!! I'm not saying don't utilise social media or that emailing participants/ prospected clients might not be on your  To -Do list – it definitely should be! But limit your time on each one and don't let it eat into anything else you need to do! I personally do tasks in 30 min blocks, that way each task feels fresh!
 
5 – Make a vision board
Ever since I was introduced to the laws of attraction many years ago, I have been a massive fan on vision boards and really believe they work. I have all my years goals, dreams and aspirations on it, making sure that some are short term as well as long term and then we have our vision boards up in the study at home where we can be constantly reminded of what we are working towards. It might be as simple as passing a qualification or getting X amount of participants/ clients, or it could be a car/ house/ holiday of your dreams. I look at my vision board many times a day, making sure its one of the first things I look at once I get up and then remind myself of it before I go to bed. We tell our clients to do this all the time with weight loss goals etc. but rarely do we practice it ourselves and I truly believe that by having your goals visually in front of you whilst you are working towards them really makes a difference into being more productive.
 
I hope that has helped in some way to get you thinking productively and will help you achieve all the little things as well as all the BIG things this 2014!!!
 
Let me know how you get on!
Much Love Kelly xx Kelly@choreographytogo.com
 

Kelly Reed-Banks
International Tutor, Assessor and Fitness Presenter

07731 424879
Cream Always Rises To The Top
By Andrew CrawfordWhether you hack my site………I'll Rise
Whether you smash my car windows………….I'll Rise
Whether you steal my material things…………..I'll Rise
Like a Phoenix from the Ashes…………I'll Rise
Why?
Because I'm Cream……………andCream Always Rises To The Top……………!!!!!          (AJC – 2014)
What is this world coming to??……….. Check this out….
Duggan Verdict……Unarmed but 'lawfully' killed….Have Mercy.!!
Masking………..Secrets of Living Dolls…….Scary…!!
Benefits Street (Although I didn't watch this either…!!!)…Fill in the gap yourself (………………)..!!
What next??
Andrew………..we hear you loud and clear…but what has the above got to do with Accountancy & Tax??
Well……There should be a Penalty against such things. Just like the HMRC gives us various penalties. For instance…
When you carelessly make errors on your tax return the HMRC will slap you with various penalties depending on if you deliberately made them and if you tried to conceal the error.
Slap wrist…………naughty naughty…
Don't forget the late penalties:
1 day late – A penalty of £100. This applies even if you have no tax to pay or have paid the tax you owe.
3 months late –  £10 for each following day – up to a 90 day maximum of £900. This is as well as the fixed penalty above.
6 months late –  £300 or 5% of the tax due, whichever is the higher. This is as well as the penalties above.
12 months late – £300 or 5% of the tax due, whichever is the higher.
In serious cases you may be asked to pay up to 100% of the tax due instead. In some cases the penalties can be even higher than this. These are as well as the penalties above.Don't think it stops there………
There are penalties for paying your tax late….!!
If you don't pay the tax you owe for the previous tax year on time, you'll have to pay a penalty after 30 days30 days late – 5% of the tax you owe at that date
6 months late – 5% of the tax you owe at that date. This is as well as the 5% above
12 months late – 5% of the tax unpaid at that date. This as well as the two 5% penalties above
So for all of you still to submit……………You got 3 weeks….!!
Finally
Do YOU Need a Fitness Business Coach?????
After working with Rachel and others over the last few years and with gentle persuasion I decided that I am going to offer my
Business Coaching. Read about it here…
http://www.choreographytogo.com/2014/01/do-you-need-a-fitness-business-coach/
(link may not be working yet)
Rachel Holmes said………
"……I've just got back from my weekly "brainstorm" with my great friend Andrew Crawford. ……….."

"…….Sharing my ideas and verbalising concepts and thoughts, that come racing through my brain, with Andrew has been a monumental shift….."
"…….I cant recommend it highly enough……………"
If interested, Contact me on: advice@andrewjamesconsulting.com
Be Cream…………………and Rise…!!
Andrew James Crawford
Have a wonderful Thursday
Much Love Rachel xxx
Posted on