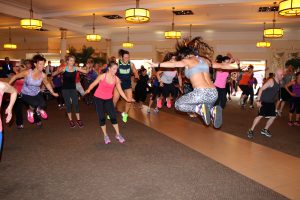 To Eat Carbs or Not???
It's the HUGE question that everyone wants to know
& dealing with fatloss on a daily basis I'm
constantly asked & quizzed on my views.
If FAT Loss is your goal – Here are my tips
BUT
If you are training for a run/triathlon/endurance
event  your requirements are different.
1: Recognise that all carbs are NOT equal.
2: Vegetables are CARBS – Good carbs in fact.
So even if you give up your bread, pasta, potatoes &
rice as long as you are eating your veggies, you are
getting high quality carbs in.
3: The timings of eating carbs is CRUCIAL.
4: If YOU only have to look at a lovely home baked
bread roll or baked potato to feel bloated & puffy
(thats me!) then you could be carb intolerant.
Only eat carbs post workout
& first thing, but continue to eat your veggies during the day.
5: If you are moderately carb intolerant then again eat
your carbs post workout & starchy carbs should be OK
in this post workout window.
6: Ensure you eat lean protein & high quality fats
with each meal.
7: Go REALLY easy on fruit if your goal is fatloss.
Especially if you are carb intolerant. Load up
on your greens and leave fruit to when you are
on a continuation or maintenance phase of KSFL
8: A great way to manage this is to do your HIIT workout
when you rise & then within an hour have your first meal.
I totally appreciate that this new way of thinking about
fatloss may be quite different & radical to many people.
So, my goal is to help you understand the best
& most uptodate approach to fat
loss & gaining the outstanding results you want.
Please tweet me @RachelHolmes and let me know
what YOU think.
Have a wonderful Saturday
Love Rachel xx
Check out my Kick Start Fat Loss Online Anytime Programmes
You can join my 7 Day KSFL ONLINE Anytime
detox. You get a full 7 days diet plan, shopping list
2 x daily workouts plus daily positive affirmations.
https://www.kickstartfatloss.net/rachels-ksfl-club/beginners-online-ksfl/
If you would like to detoxify for 14 days. You can jump
on the 14 day shred programme at anytime
https://www.kickstartfatloss.net/rachels-ksfl-club/14-day-ksfl-shred-starts-monday-27012014/
And the full 21 day detox which will cleanse the cells, the liver
and help you kick the sugar habit PLUS watch the body fat drop
massively if you stick to the full 21 days.
https://www.kickstartfatloss.net/rachels-ksfl-club/21day2014/
Add your email for up to the minute info on KSFL diet & detox, Juicing,
Fatloss tips, Home Workouts,
Positive Self
Love, Affirmations & Happy Lifestyle
Updates
Posted on