Spending Hours At The Gym And Getting Nowhere
Jem has gone from a size 20 to a size 10
losing a phenomenal
6 stone doing Kick Start Fat Loss.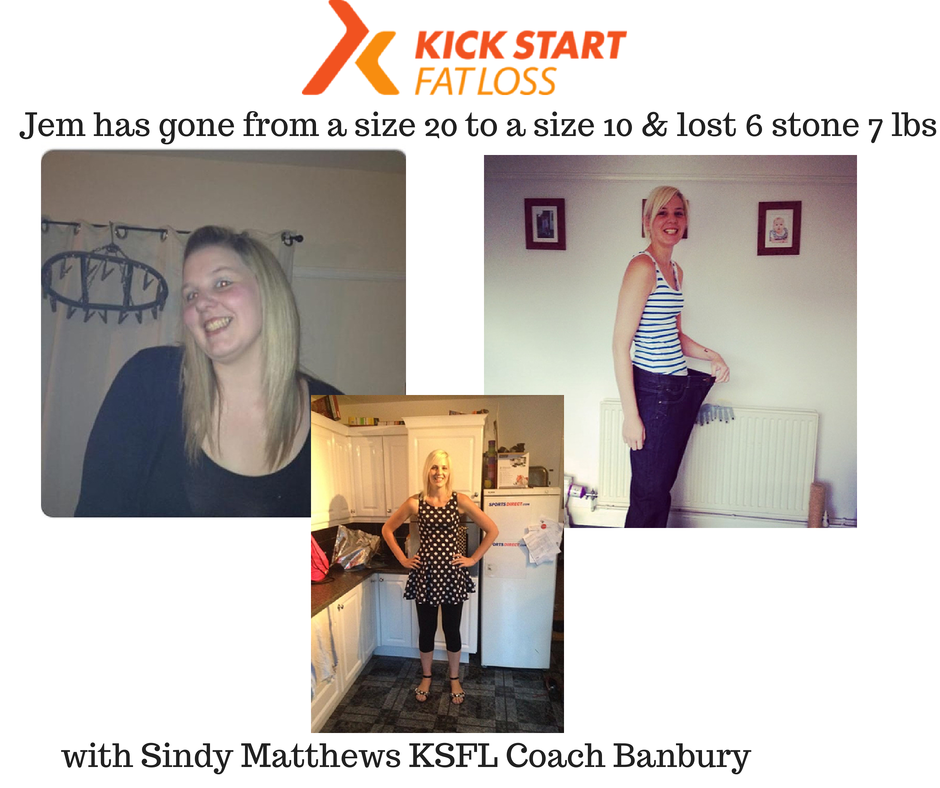 25 year old Jem used to go to the gym 6 days a week thinking she could out-train her heavily processed diet.
A former late night snacker, Jem would come home from the gym and pig out on chocolate, cake and crisps and drink 2 litres of coke every day.
Jem felt so self conscious she stopped going out and totally put her social life on hold as she felt so unconfident and unhappy.
"My sister had a baby and I had a photo taken with him and it made me see how big I had let myself get.
I was so down in the dumps all the time and didn't want to feel like that anymore,
I used to hate going out and would make up excuses so I didn't have to go out," says Jem, who is a store assistant at Aldi in Oxford.
Jem decided enough was enough and decided to sign up for Sindy Matthew's Kick Start Fat Loss Club in Banbury.
"I knew Sindy from her previous classes and my feelings told me Sindy,  who also had a weight problem in the past,
would be the key person to help me."
"
When I was out I felt everyone was staring at me because I was so big, being 6'  I just felt like a whale."
Jem attends weekly Kick Start Fat Loss Classes in Banbury and is truely living the KSFL style.
"Breakfast is a banana omelette, lunch tomato soup, dinner seasoned chicken and peppers with egg fried brown rice."
"It took me 11 months to lose 6 stone 7lb. I wasn't working when I first joined KSFL but I'm now a store assistant at Aldi. I feel amazing.
I'm in such a happy place at the moment, starting to enjoy life again, love going out and I have turned my can'ts into cans,
not only has my body shape completely changed but my attitude to life has as well and I no longer suffer from backache."
Jem is now going to be training with Sindy to become a Kick Start Fat Loss Coach and help others in the Banbury and Oxford area.
What an amazing life transformation for Jem
^^^^^^^^^^^^^^^^^^^^^^^^^^^^^^^^^^^^^^^^^^^^^^^^^^^^^^^^^^^^^^^^^^^^^^^^^^^^^^^^^^^^^^^^
To join Sindys classes in Banbury CONTACT SINDY MATTHEWS http://kickstartfatlossbanbury.co.uk/
Notes For Editors
Contact Rachel Holmes
www.KickStartFatLoss.net
Contact Number 07976 268672
Available for Interview
Posted on