PRESS RELEASE
For immediate release 17/09/2014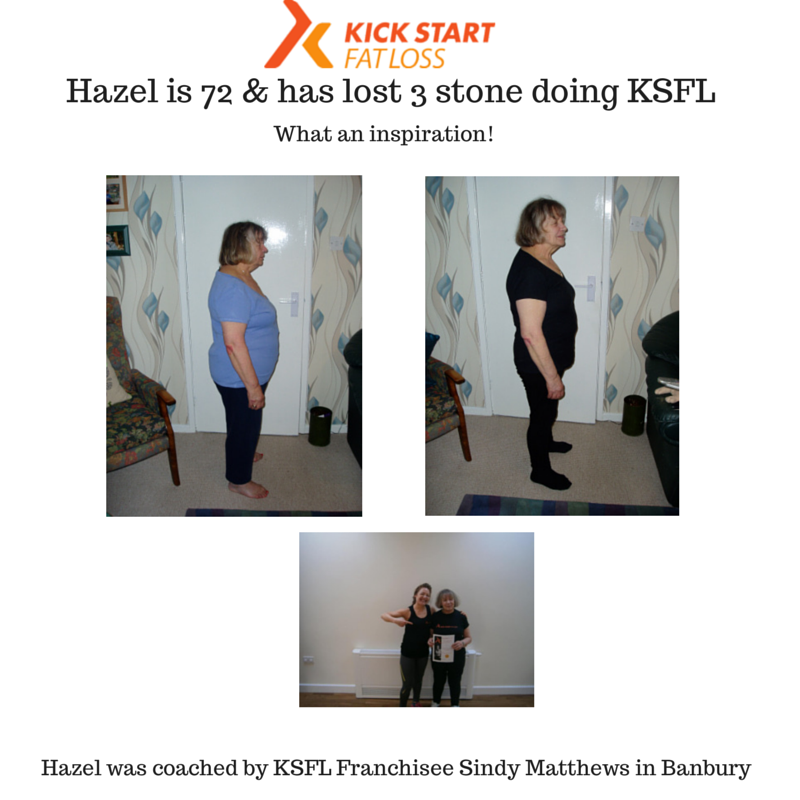 72 year old Hazel McDermid had difficulty walking the Malvern Hills last September so
she joined Kick Start Fat Loss in Banbury and has lost 3 stone.
Such an inspiration.
Volunteer Church worker Hazel McDermid is 72 and knew she had to lose weight when last September, whilst walking the Malvern Hills she had to keep stopping and had scary pains in her chest.
She noticed a new Kick Start Fat Loss class starting in Banbury with Sindy Matthews but thought she was too old to join in but decided to go along with a younger friend for encouragement.
On the night her friend let her down so Hazel still attended and received a very warm welcome and tons of encouragement from Sindy.
"I have always felt comfortable and love most of the exercise, but the best thing is learning to eat healthily. My eating was previously out of control, a favourite snack being thick wedges of cheese with plum jam," says Hazel.
Hazel's previous diet consisted of lots of potatoes and bread, preferably with something sweet on!
"I reached a milestone loss of 3 stone in June this year, in time to walk up Marcle Ridge on holiday with no effort!!  I love the choices of food on the shopping list we are given.
I usually have boiled eggs for breakfast, they cook while I do my 10 minutes exercise with my Rachel Holmes DVD.  I drink mainly Pukka tea and more water than I ever have."
For lunch Hazel likes to have a salad or omelette and evening meal is meat or fish with lots of vegetables which is more than she has ever eaten.
"I've enjoyed cooking more, I love roasted Mediterranean veg roasted in coconut oil. I feel really good, I'm far more agile, and was thrilled to buy a SMALL coat in a sale."
Hazel admits to occasionally giving into temptation, especially when she has  visitors and doesn't want to make a fuss, but she quickly gets back on track, knowing KSFL is there on Wednesday.
"It's easier now there is not so much of me and so easy for me to advertise KSFL as people just ask how I've lost weight."
For Editors
Please contact Rachel Holmes
Creator of Kick Start Fat Loss Programme
0797626672
To contact Sindy Matthews http://kickstartfatlossbanbury.co.uk/
Posted on