Mum Of 2 Sets Of Twins Loses 24.5 lbs in 7 weeks with KSFL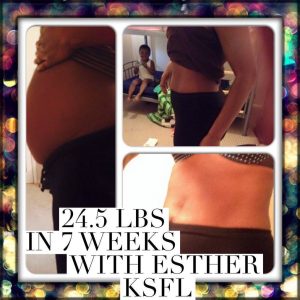 Jean is  41 years old nursery nurse at a preschool in Mill Hill London
with 5 children including two sets of twins and single child.
"Before I had my little one I was size 10 but after I had ballooned to a  size 16
& as I am only 5.4 it was not healthy"
My friend told me about Esther Shortt and Kick Start Fat Loss
"I use to eat everything, not enough vegetables, and also drink
3 bottles of wine a week
I did not go to the gym or do any exercise at all"
The last straw was looking in the mirror and hating what she had become.
"I now follow the KSFL lifestyle with 3 meals a day, no snacking and loads of vegetables,meat & fish"
Jean has also given up her favourite African food as she still wants to lose
more weight & get to her target weight.
"My family and friends  are so happy with my size now, I feel happier and have tons more energy I think it's about controlling
yourself with your food,exercises,walking,fasting and a lot of water" Says Jean
^^^^^^^^^^^^^^^^^^^^^^^^^^^^^^^^^^^^^^^^^^^^^^^^^^^^^^^^^^^^^^
Posted on