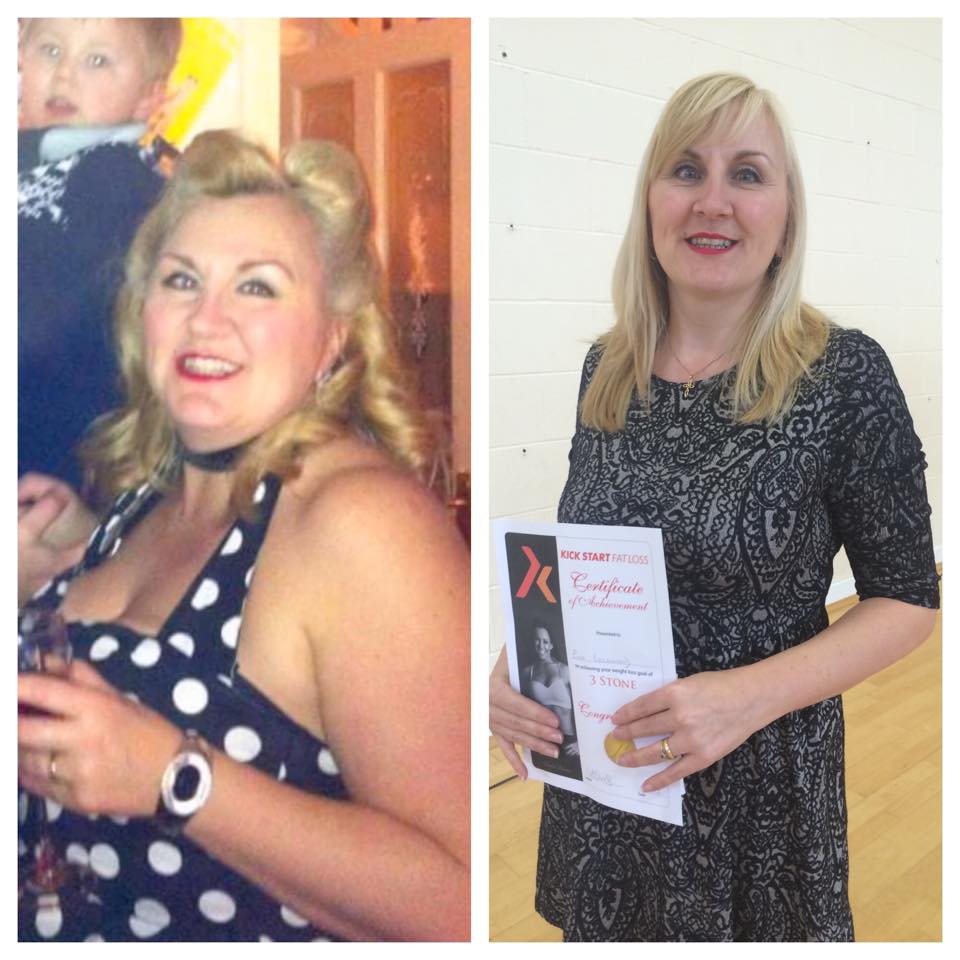 Mother of three with underactive thyroid ditches the diets and loses 3 stone in 5 months with Kick Start Fat Loss
Mother of three Lisa Lockwood from Lowestoft was your typical yo-yo dieter.
Years of crash dieting and restrictive calorie counting had damaged her metabolism and left her feeling hungry with unsatisfactory results. Even whilst attending various slimming clubs Lisa would only see short term weight loss followed by long term weight gain. "I would initially lose 5 lbs only to put on 10lb soon after" –says Lisa.
A hair dresser by trade, Lisa would suffer chronic fatigue and joint ache after only standing for a few minutes. Feeling frustrated and exhausted she sought medical advice from her GP. Her blood tests revealed that she was suffering from an under active thyroid – a condition in which there is a reduced level of thyroid hormone (thyroxine) in the body. Common symptoms included tiredness, weight gain, constipation, aches, dry skin and feeling cold. Now both lacking in energy and enthusiasm, Lisa resigned herself to being fat forever.
"My wedding ring no longer fitted, I didn't believe that I could lose weight so ate more in comfort." The turning point came on New Year's Eve 2014 – the annual family party. After looking forward to dressing as Cinderella, Lisa was devastated when the size 18 dress did not fit. Tipping the scales at 14st 7lbs and emotionally at an all time low, Lisa knew it was time for change as she was tired of dreaming about being thinner.  5th January 2015, Lisa joined  Kick Start Fat loss (KSFL) club Lowestoft – ran by franchisee Helen Pybus. The Kick Start Fat Loss is a long term life style plan that works on the principles of clean eating and freshly prepared home cooked meals. There is no calorie counting or low fat foods – instead emphasis is on eliminating sugar and eating as close to nature as possible.
In three weeks Lisa lost an amazing 15 lbs! "The first few days were tough as I had scrapped sugar from my diet and my body soon realized this. I always thought that I had eaten pretty healthily but KSFL has taught me so much about nutrition and the many foods out there that you think are healthy yet contain hidden sugars". – says Lisa.
In just five months Lisa has lost an impressive 3 stone and she is well on her way to losing her last 14lbs, taking her to her goal weight. Lisa quotes "this is the most amount of weight I have ever lost in this time frame and I most definitely do not feel like I'm on a faddy diet". With the help of the Kick Start Fat Loss Recipe Book she is creating healthy and mouth watering meals that is enjoyed by all the family. "On a personal level my confidence and self esteem has gone through the roof. My clothes are too big as is my wedding ring now and I got into a size 12 skirt the other day – It felt so good".
Lisa acknowledges that her success would not have been achievable if it wasn't for the support she had from instructor and franchisee Helen Plyby "Helen is full of energy, passion, knowledge and kindness. Kick Start Fat Loss has changed the way I think about food and I am healthier and happier for it".
Lisa's advice for anyone who is struggling to lose weight and keep it off:
1.      Join a kick start fat loss group – you will learn so much about the food you eat and how it nourishes your body.
2.      Don't beat yourself up if you have a bad day. It happens to us all. Just how eating clean for one day won't make you slimmer, eating badly on one day won't make you fat either.
3.      Prepare your food in advance. This will ensure you are not tempted to make a detour and eat junk food.
4.      Don't give up. Everyone deserves to lead a fulfilled and happy life. Kick Start Fat Loss will help you get there.
For more information about the Kick Start Fat Loss plan including UK clubs, online support exercise and more, visit the website at www.kickstartfatloss.net
Posted on