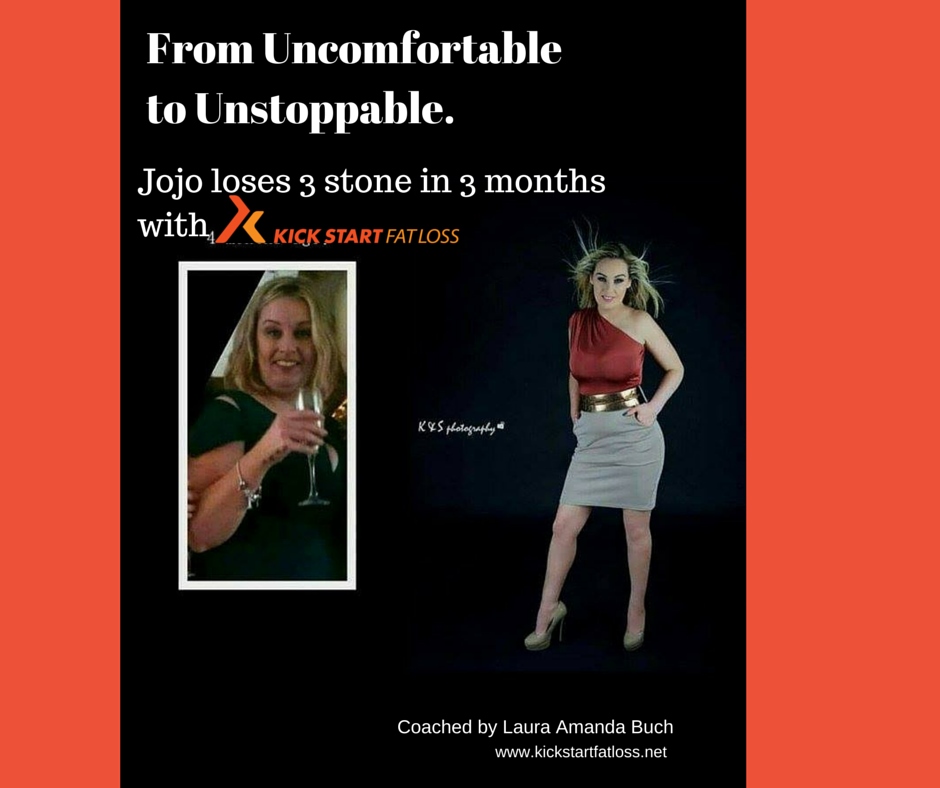 Jojo Reilly from Drogheda County Louth (Ireland) was fed up of feeling uncomfortable in her own skin. Both weight gain and an expanding waistline meant that leggings and tracksuits had become a wardrobe staple. The 39 year old sales assistant was feeling both the physical and emotional restraints from being overweight. Walking had become a chore, often leaving her feeling tired and out of breath. Poor diet and no exercise brought with it constant fatigue and no confidence. Socialising was now something Jojo dreaded and trying on clothes as they often did not fit would leave her in floods of tears – she quotes "I was a passenger in a car sitting in the front seat and I physically couldn't cross my legs without using my hands to help – I knew then something needed to change".
That change came on 6th January 2015. Weighing in at 12 stone Jojo joined Kick Start Fat Loss (KSFL) club – ran by franchisee Laura Armada Buch. Kick Start Fat Loss (KSFL) is a plan that champions a healthy lifestyle that focuses on real foods which are unprocessed, fresh, seasonal and nutrient dense.
Before joining KSFL Jojo's daily food intake would look something like this:
Breakfast – Nothing
Lunch – Chicken Sandwich, crisps and chocolate
Dinner – Burger and chips and 2 litre bottle of coke.
Jojo now enjoys cooking and eating foods such as scrambled eggs with spinach for breakfast, omelettes and fish/meat with broccoli for lunch and chicken stir fry or chilli and vegetables for dinner. The daily two litre bottle of coke has been replaced with water and green tea. Jojo planned her meals in advance and also started going to bed earlier – both of which helped keep her stay on track and get better quality of sleep.
Within one week of starting Kick Start Fat Loss Jojo's energy had returned. She physically and mentally felt stronger thanks to the nutritious food she was eating that didn't rely on calorie counting, weighing food or any other methods of restriction. Kick Start Fat Loss has educated Jojo on food, their nutritional value and benefits.
In three months Jojo had lost 3 stone and completely changed her life. No more sitting on the sofa mindlessly eating. No more emotional binges. No more dieting! Kick Start Fat Loss has introduced Jojo to fitness which has not only boosted her fat loss but also her self- esteem. She now trains regularly in Pole fitness, Hot Yoga and Hiit classes – all ran by her KSFL coach Laura Armada Buch.
With her new found confidence, shopping for clothes is now a positive experience and socialising with friends and family is nothing but fun. Ailments such as pain in her hands have now completely gone – of which Jojo credits to the healthy foods she is eating and the fizzy drinks she is no longer drinking.
Here are Jojo's top tips for losing weight and healthy living:
Plan your meals in advance
Keep a food diary
Take before and after pictures
Join Kick Start Fat loss and use the ongoing support from both your coach and online forums
Try a different recipe each week
"Remember this is for you and you deserve the best so take it a day at a time, keep that goal in mind and then smash it!"
For more information on Kick Start Fat Loss visit the website www.kickstartfatloss.net
Posted on