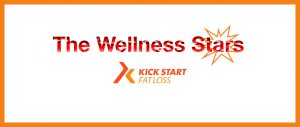 Wellness stars question of the week is BACK where we ask our amazing Kick Start coaches a question about nutrition….
This week's question is –
Half way through your KSFL programme what do you do to motivate you and your team?
Michelle Waldron KSFL Redditch:
On the last 4 weeks I have set them a weekly 7 day challenge.
Last week it was to post their breakfast, lunch and dinner pictures in the group everyday for 7 days.
This week their challenge is to do a 10 minute HIIT workout every day and post what they did in the group. Haven't decided yet what the last 2 challenges are? It's working well and making them more accountable!! I'm on their backs everyday to do it!!
Andrea Riddoch KSFL Leeds:
Tell them to revisit their goals and really focus on why they started this programme in the first place. It is never simply about weight loss and when they realise this and get back to focusing on health and wellbeing they reignite their motivation
Natalie Hill KSFL Gibraltar:
I give them mini challenges like 5 day Super Boost Detox or sleep challenges, I pop in LIVE and remind them to PUSH HARD as once out of the group it'll be so much harder! We revisit accountability forms, food diaries and revisit goals and make sure I'm always there for any concerns. One thing that ALWAYS gets them interactive in the group is a FREE RAFFLE ?
Francesca Flin  KSFL Orpington:
I've done a colourful ksfl plate competition this week … for a recipe book prize of course! ??
Rachel Holmes KSFL Creator:
Set new challenges and goals. Revist everything that has been accomplished and celebrate how far you have come. Reset new goals for the next 6 weeks.
What is your favourite way to get motivated? Share with us @KSFLUK
Posted on