Treat your Mum this Mother's Day with this fabulous 3 course recipe that is healthy too!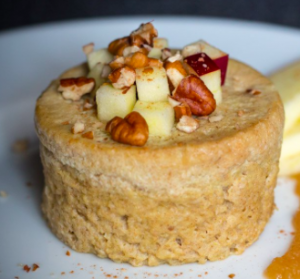 STARTER
Seasonal Veg and Romesco Sauce
Ingredients
4-6 fresh eggs
Romesco Sauce
1 cup roasted tomatoes
1 cup roasted red peppers, drained
1 garlic clove, crushed
1/2 cup raw slivered almonds
Himalayan sea salt
2 tsp paprika
Spicy Option: 1 tsp cayenne pepper
Choose from a selection of:
Asparagus
Carrots
Brussels Sprouts
White Sweet Potatoes
Onion
Spinach
1 tbsp coconut oil
Sprinkle Himalayan sea salt
Instructions
1. Preheat oven to 180c
2. Clean and chop veggies
3. Line vegetables on baking sheet, sprinkle coconut oil and salt and mix to coat
4. Roast for 40 minutes or until tender
5. While roasting, combine Romesco Sauce ingredients in your food processor, pulse until combined and thick, pour into bowl and set aside in refrigerator until ready to serve.
6. Make poached eggs
-Fill a small/medium size pot with about 2 cups of water and 1 tbsp vinegar
-Crack eggs individually into a ramekin
-Once water is boiling, stir water with spatula until water is spinning slightly in a circular motion
-Slowly pour egg into the spinning water; use spatula to slightly move it together if you need to
-Let cook for about 3-4 minutes until egg white is opaque; spoon out with slotted spoon and set aside
7. When veggies are done, transfer to serving plate and serve with eggs and sauce!
MAIN COURSE
Omelette wraps
Ingredients:
2 large (preferably organic) eggs
a tiny pinch of fine grain sea salt
a few tablespoons of chopped chives
a dollop of home made pesto
a bit of goat cheese or feta
a small handful of mixed salad greens
Instructions
Use a fork to beat the eggs and salt in a small bowl. Beat well.
In your largest pan over medium heat pour the egg mixture and give it a good swirl so that they spread out thinly across the entire pan. Alternately, you can use a crepe pan or crepe maker – this works beautifully as well. Sprinkle the eggs with some of the chives and let them set, this happens quickly depending on the heat of your pan – 15 seconds to one minute. Run a spatula underneath the omelette and slide it out of the pan (flat) onto a countertop or large cutting board. Spread the pesto across the surface of the omelette (if you have a thick pesto, thin it a bit with water to make it easily spreadable), and then sprinkle with the cheese and salad greens. Starting with one end, roll the omelette away from you. Cut in half on a deep diagonal. Season with a bit more salt if needed and serve garnished with a few chopped chives.
Serves one or two.
DESSERT
Apple mug muffins
Ingredients
1 tablespoon grass fed butter (or coconut oil)
2 tablespoon apples blitzed into a sauce
1 organic egg
1/4 teaspoon vanilla
1 teaspoon maple syrup
3 tablespoons almond flour
1/2 teaspoon cinnamon
1/8 teaspoon baking powder
Pinch of Himalayan salt
Streusel Topping
1 tablespoon apple, finely chopped
pinch of crumbled walnuts
pinch of cold butter
Instructions
Melt the butter in a microwave safe mug on lower power.
Whisk in the applesauce, egg, vanilla and maple syrup until well combined
Add almond meal, cinnamon, baking powder, and salt and stir for about 30 seconds.
Add streusel topping (optional) and microwave for 1 minute, 10 seconds
Let cool for a few minutes and enjoy!
Enjoy!
Posted on