Today we are sharing with you a fantastic recipe from our friends Lizi's Granola that is perfect for a Friday breakfast treat on-the-go or a lunch time snack!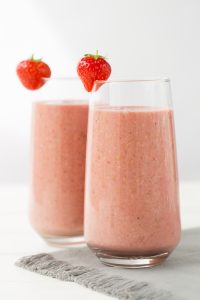 Strawberry and Coconut Smoothie
Prep Time: 5 minutes
INGREDIENTS
1 large handful Chopped fresh strawberries
1 tbsp Coconut milk
1 chopped Banana
1 tsp Hemp seed oil
1 scoop Strawberry flavoured whey protein powder
1 handful Lizi's Gluten-Free Granola
Raw Cocoa to serve
METHOD
Put the granola into a blender and give it a good blitz until it's become a powder. Add all the other ingredients and blend until smooth.
If it's too thick for your taste, add a little more coconut milk. Serve in your funkiest glass or on-the-go cup, sprinkle with a little leftover granola and cocoa – and enjoy!
Give it a go and share your thoughts with us today @KSFLUK
Thanks to Lizi's Granola for the delicious recipe! 
Posted on