UK Kid's Nutrition Interview with Bahee and Rachel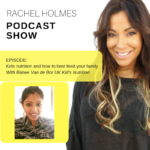 In this episode I pick the brains of the knowledgable Bahee Van de Bor of UK Kids nutrition.
We talk about what is "normal" in kids eating habits, snacking, how to create positive eating habits for the whole family and much more.
Mum's… this episode is not to be missed!!
Don't forget to leave your feedback and please subscribe.
Find out more about Kids Nutrition By Bahee

Posted on