Meet Chris Tuck who transformed her health, built her business through hard work and persistence and is now reaping the benefits.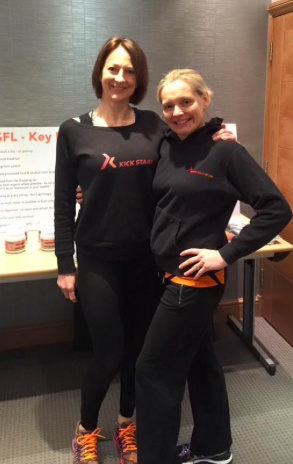 Read her story below:
I started my community based fitness business in 2003 with just one class. The gyms were not interested in employing me because I had no experience so I created my own opportunity by taking over a circuit class at Beccs Rugby Club, Sparrows Den and building up my business one class at a time.
Over time I had Pilates, Postural assessment, Fitness Pilates, Weight Management, 60+ Fitness, Holistic massage and PT to my timetable.
Over the years because of my traumatic childhood my mental and physical health started to deteriorate.
I knew I had to take a long hard look at my lifestyle – my stress levels, my posture, the exercise that I did, the food that I ate. All of which was causing my body great inflammation and ultimately causing me pain.
I invested in some mentoring & training with Dax Moy the top PT in London & Rachel Holmes the leading female fitness entrpreneur.
I started my own weight management business called FatBusters in 2011. This was based on a 28 day boot camp type model where I guaranteed that my members would drop a dress size in 28 days through mindset, nutrition & fitness.
Even though this was a success I soon realised that encouraging members to drop a dress size in 28days was only the beginning of their journey and I my programme was not extensive enough.
I have always been of the mind that lifestyle change is a continuous and progressive journey and the model I was offering didn't deliver this.
At this time Rachel Holmes was launching her Kick Start Fat Loss brand and I knew instantly that this is what my business needed to evolve.
Fat Busters was based on the same principles as KSFL but I knew Rachel would be just what I needed to take my business to the next level.
Because of what I went through as a child, adolescence this has had a major impact on my adult life.
Out of every negative there is always a positive…..I am very resilient, I have a great understanding & empathy for members and I understand their struggles no matter what they are.
I have a great affinity to get to the bottom of my members challenges and have the skillset, knowledge & expertise to empower them to turn their lives around and support them to reach their full potential and be happier.
I know all to we'll how important it is to look after my health…without it….We have nothing.
I had a mental breakdown in 2000, I have had hip mobility problems since the age of 35 and have had 3 hip surgeries in the last 5 years.
As a result of all of this I have down a lot of research into the causes of my problems and have found solutions to them.
I truly know the importance of a positive mindset, the correct nutrition & exercise and that I need to take time out to keep healthy.
I coach all my members to do the same.
It's now important to me to reach more people to spread the message of health & Wellness and what this looks like so I will be doing several things to achieve this.
I will be running #KSFLOnline programmes my 1st one starts on Monday the 11th of April
I will be join the other KSFL BUSINESS Owners in becoming an Online Coach to mentor members through their journey.
I will be running 1 day Retreats with Fran Flin from KSFL Orpington next one is Sept 2016
I will be running weekend retreats annually.
Everyone deserves to be the best version of themselves they can be and I am here to help them make that happen.
Health & Happiness
Chris x
Thanks Chris for sharing your story with us!
Work in an area you LOVE!
Be your own boss.
Get qualifications in nutrition and health.
Support others in changing their lifestyle, transforming health.
Be part of an ever growing community.
Posted on