As we are all enjoying the last weekend before
school starts and holidays end, I wanted to
send you one lovely treat to enjoy with the family
and send some motivation your way.
It's concocted by Kick Start Leeds and
Cooking School expert Andrea Riddoch and really is
delicious and is very simple to make.
We are gearing up at Kick Start with so many
new classes and events starting next week
and I will be all over the UK with launches and talks.
It would be wonderful to
see you 🙂
If you are local to Nottingham and Derby
Click here
for all of my classes
I am also on Facebook Live every day on the Kick Start page and I love
hearing from you over there, (usually) about 815am.
Today is about mindset and retraining your brain for success.
Click here and like our page
If you are ready to reign it all in this weekend check out my latest
Blogs and articles with tons of top tips.
Is It Really OK To Eat At Night ? Click here
Why Your Slow Cooker Will Reduce Your Waist Line click here
Why Are Courgettes Awesome For Fat loss Click here
Calling All Women Over 35 Who Want To Improve All Aspects Of Their Life
Click here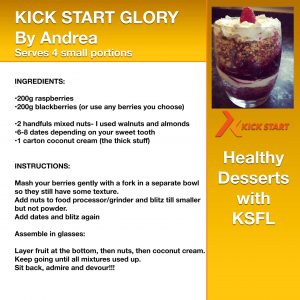 Have a FANTASTIC FRIDAY
LOVE RACHEL x
Creator of Kick Start Fat Loss Clubs
Posted on