Every week we ask our Kick Start Franchisees to nominate a special member that has been shining in their classes and open the vote to the public to find the winner! The winner then receives a prize and certificate in the post to thank them for all of their hard work!
Here are this week's Kick Start Member Of The Week WINNERS:
1ST PLACE
KSFL Gibraltar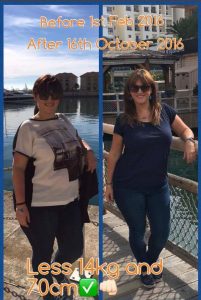 I nominate Christabelle
Hear her story:
So why did I start doing KSFL in Feb 2016.My 50th birthday was coming up in August and I was generally unhappy with my weight. I was trying to juggle work, studying, social life, housework etc and had no time to exercise. Using alcohol to destress at weekends led to me piling on the kilos, feeling lethargic and bloated. I realised that I needed to make some drastic changes to my lifestyle. I came across some of the KSFL Gibraltar testimonials and these inspired me to give it a shot.
I started with the online version as I didn't have time to commit to classes due to my studies. Although initially I thought I would have problems with cutting out fruit, pasta and bread in reality I didn't find it that hard to adapt. I ate three nutritious meals a day and as long as I followed the guidelines and ate plenty of green veg and good fats I locked up my hunger. I didn't have much of an issue with cravings during detox because I don't have much of a sweet tooth but I found drinking plenty of water and herbal teas helped. The tips and support received via the online Facebook group proved invaluable to me and encouraged me to experiment in the kitchen modifying recipes to make them suitable for KSFL. I enjoyed taking pictures of the food I was eating and making collages to post in the group. I found it kept me focused and provided a means of engagement with the group.
Exercise is the other important factor of the KSFL programme. At first I was so unfit that I found a simple tabata workout on you-tube and stuck to that. I used to take my weights or exercise bands with me on trips abroad and workout in my hotel room. As my fitness improved and my energy levels increased I upped my workouts and started attending classes. I knew I was hooked when I exercised on my cruise balcony this summer.
To date I have lost approx. 14kg and 70cm overall. I have learnt a great deal thanks to our excellent mentor Natalie Hill on nutrition, the impact that hormones, and sleep etc. have on your weight loss and what works for me as an individual on the programme. For example I'm not a fan of fasting; I have a healthy appetite and enjoy eating. I've learnt that I can go alcohol free for 28 days if I choose to and that if I have a cheat meal that is not KSFL approved I am back on it the next day.
By far the greatest benefit from KSFL is that I no longer suffer from regular neck and back pain like I used to. I have tons more energy and my mind feels clearer and more focused. I feel mentally stronger and able to enjoy life to the fullest. I love travelling and I'm looking forward to enjoying an active holiday in Canada & Alaska next year and continuing on my KSFL journey.
My top tips for anyone considering giving KSFL a go are to keep an open mind, organise yourself and plan ahead. Cook from scratch and ditch the processed shit. Experiment in the kitchen and try everything at least once. Never knew I would enjoy green smoothies so much. Use spices to flavour food and try batch cooking, as it will free up more time. Do your HIIT workouts at home with you-tube it's just 10 minutes! Don't overthink it obsession is not a good thing. There will be bad days! Learn to forgive yourself and move on and above all enjoy the process.
2ND PLACE
KSFL Lincoln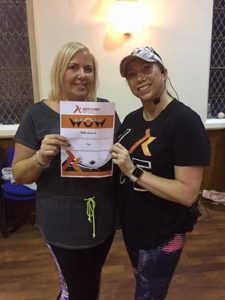 I nominate Louise Turner
Louise has dropped two dress sizes with KSFL Lincoln. KSFL isn't just for weight loss for Louise though it's a much bigger picture and Louise her two daughters and two friends all come together as a big supportive family unit and it's life changing for them. "After tragic events which turned our lives upside down, for comfort I turned to food as I'm an emotional eater. I'm now finding I'm less stressed about losing weight and jumping on and off the scales and feeling sooooo much fitter doing the classes and finding myself doing a little bit more in the classes every week with you, which feels amazing ! and like I said you truly are a wonderful and inspiring lady, thank you so much" Louise has gained so much confidence with KSFL and has now jacked in a "toxic" job she held after listening to our advise on reducing stress levels ( don't worry she had another !) also after ditching the diet coke Louise hasn't had a migraine and used to have three or four a month. I'm so proud of Louise and her family and they've already signed up for our next 12 week course!!
WELL DONE TO OUR WINNERS!
Posted on