Every week we ask our Kick Start Franchisees to nominate a special member that has been shining in their classes and open the vote to the public to find the winner! The winner then receives a prize and certificate in the post to thank them for all of their hard work!
Here are this week's Kick Start Member Of The Week nominations:
Voting closes 16/12/16 at 9am
KSFL Cambridge Kelly Reed-Banks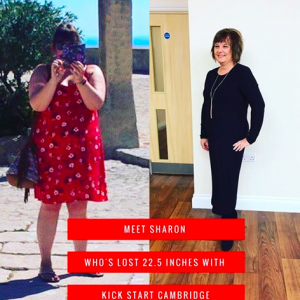 I nominate Sharon Knights
"I Couldn't be prouder of Sharon Knights who's lost 22.5 inches with me on my last Kick Start Cambridge course
Doesn't she look amazing – her before pic is the only pic she had of herself bless her! But now she loves her pic taken!!!
I'm so excited to see her progress in January when Sharon is joining me for my 12 week kick start body transformation
Sharon is gutted cause her weight hasn't changed much but the scales mean nothing!!!! Look at her!!!"
KSFL Coleshill Kim Jenkins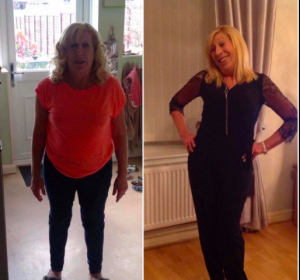 I nominate Carole Ryder
"I will begin by saying I really thought it was an age thing with my weight gain I was thinking this is me how I will be looking for now on because every diet I tried was a chore with no results
I thought I have nothing to lose by trying ksfl was another diet fad but Kim's enthusiasm made me want to try it.
I began with the 28 day detox and began to see changes in my body like seeing ribs that I hadn't seen for years which inspired me to carry on with the programme
OMG my results are just amazing I have lost 1st 4lbs 25 inches around body but more than anything I love my new body I have so much more self confidence and shopping for clothes now is a real buzz where previously it was depressing
ksfl has taught me to understand what is important what goes into your body. I keep away from processed food at all accounts and cook with good oils ( coconut oil or organic butter) and cook like grandma used to from scratch. It must work because so pleased with my results."
KSFL Lincoln Sarah Hogan
I nominate Louise Leeder
"I wanted to lose one and a half Stone and being on the KSFL plan for three months I have nearly managed to achieve my target. it was good to have the support along the way from Rachel the founder of KSFL and Sarah the Lincoln Franchisee, also the ladies in the group.
I have suffered from rosacea for five years and have continously taken anti biotics prescribed by my GP. I haven't had to take any now for three months.
While I have been on the diet my husband also joined in with me. He has type 2 diabetes. His GP has taken him off two tablets so far. Like me he will be carrying on eating the KSFL way."
KSFL Kings Lynn Jane Cole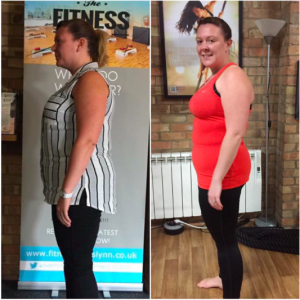 I nominate Kirsty Hill
"Following two rounds of IVF and a miscarriage I decided that I needed to get my body and mind into a better place therefore I decided to do the 12 week KSFL Transformation Package.
I've always been an active person so the daily exercise was no chore to me. The range of classes available along with qualified instructors who are more than willing to push you to achieve your best is fantastic…you couldn't ask for anymore from Jane, Terry and Ruth. I've even found myself back out running after 4 years and am now achieving a comfortable 4 mile run.
In terms of eating habits this programme has certainly changed mine, I'm now more aware of what I'm buying and eating and really enjoying it. The daily support online was great and also meant that you could share food ideas and recipes with each other when you felt like your meals were getting stagnant.
It's not been an easy 12 weeks for me but I'm a firm believer in that you get out what you put in! I've managed to lose 19lbs, 16 inches and 2 dress sizes! This programme has transformed me, my mind and body are in such a good place and I now feel ready to take on the next part of my IVF journey. I couldn't of done it without the love, support and dedication from Jane and the rest of the group so thank you. Everyone of you should be proud of your achievements. We did it girls!"
Place your vote below:
Oops! We could not locate your form.
Posted on