Fizzy drinks such as Coke are associated with higher blood pressure and obesity – they are full of sweeteners and other nasties which make them a no-go on KSFL . So what are the swaps?
Rachel Holmes suggests swapping your usual fizzy drinks for "S.Pellegrino" it is the finest sparkling natural mineral water and goes great in juices and smoothies.
How about getting adding a few slices of lemon to your water for a little extra taste?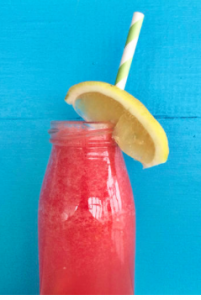 Watermelon Lemonade recipe:
INGREDIENTS
4 cups watermelon, cubed*
1 tbs. fresh squeezed lemon juice (more to taste)
6 mint leaves
INSTRUCTIONS
Put watermelon and lemon juice in blender. Blend on medium speed until watermelon is completely broken down into a thin slush. Taste, and if it's to sweet, add more lemon juice 1 teaspoon at a time.
To serve, gently muddle 3 mint leaves in the bottom of two glasses, then pour watermelon lemonade over it.
Rosemary Raspberry lemonade Recipe:
INGREDIENTS
1 quart water
1/4 cup fresh or 1/8 cup dry rosemary leaves
3 medium-sized lemons
1/4 to 1/2 cup honey or maple syrup
1 cup fresh or frozen raspberries
Ice cubes
Edible flowers for garnish
INSTRUCTIONS
Make a rosemary infusion:
1. Measure out 1-2 ounces (about 1/2 to 1 cup) of dried herbs per quart of boiling water. If using fresh herbs, double the amount of plant material. Combine the herbs in a pot.
2. Pour 1 quart of boiling water over the herbs.
3. Strain, and sweeten lightly with honey if desired.
Make the lemonade:
1. After the rosemary infusion. Stir, cover and allow to steep for 15-20 minutes.
2. Strain out the rosemary leaves, and add the fresh lemon and honey or maple syrup. Stir well and transfer to a festive glass bowl.
3. Add the raspberries and ice cubes, and garnish with a few sprinkles of edible flowers.
For more recipes join our free newsletter HERE
Posted on