Sal's story Kick Start Lift Lean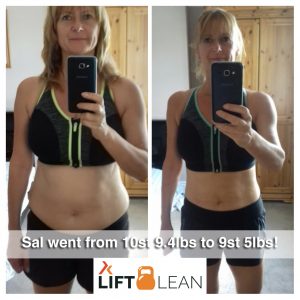 "Start weight 10st 9.4lbs
2" lost from bust, 3" from waist, 2.5" from hips and 1" from each thigh.
For me this is so much more about weight loss. I am feeling fitter, healthier and I have so much more energy. My clothes fit so much better than they used to. 
I was beginning to struggle teaching body attack twice a week on top of all the other programmes which I teach. I just didn't feel like I had the energy and if I had to travel to a class would be so stiff by the time I got home that I would often struggle to get up the stairs. I was resorting to taking iboprufen a lot, which seemed to becoming a habit rather than a need. At the same time I was peri-menapausal so suffering with inflammation, particularly in my fingers, chronic tiredness (needing to take a nap in the afternoons) night sweats, lack of energy, very disturbed sleep pattern.
Well not any more. Participants in bodyattack cannot believe the change in me and how much energy I have. Any menapausal symptons have gone. My skin & eyes are brighter. I haven't taken iboprufen since we started the programmed and my sleep is now mostly undisturbed.
I didn't think eating healthy could be so delicious. I thought that I ate well but in reality that only applied to evening meals as my husband and I share the cooking and we always cook something from scratch. Breakfast and lunch on the other hand? Depending on how busy I was with classes and work, breakfast would probably be Weetabix or peanut butter on toast. Lunch a large roll filled with tuna or ham and cheese. At its worst grabbing cheese and biscuits and a bag of crisps to eat on the run.

 

 

Yes it does take planning and prep to eat healthily but once you get in the swing of things, it becomes second nature. Lunches are now huge salads with a variety of ingredients topped with salmon or chicken etc and breakfast now usually involves an egg or two. 
Drinking salted water in the morning is now 2
nd
nature. Drinking at least 2 or 3 litres of water a day is also now a daily habit. I can honestly say I don't feel hungry between meals but occasionally have a snack of a handful of nuts or a banana smoothie if I want energy before I take a class.
No going back for me. I know when I have veered off path and had alcohol or foods high in sugar, that I feel rubbish the next day and usually have chronic stomach cramps that night.
I've still managed to enjoy a weekend away with the girls to Paris and a couple of weekends away with my husband but I have been better informed to make better food choices but still enjoy the odd treat.
This is definitely a way of life and just as Rachel says – I feel that I have been given all the tools I need to continue and become my own 'diet detective'"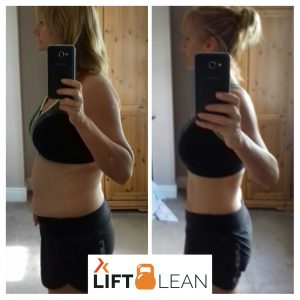 Thanks for sharing your story with us Sal!
Sal will be launching her Kick Start Club very soon in Downham Market- make sure you book on for the launch night!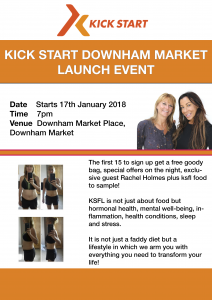 Our next Lift Lean Online with Rachel Holmes starts after half term – 23rd October
Kick Start Lift Lean and Mobility
+++28 NEW Workouts including Active Fitness Pilates and Mobility Workouts.
Will need all the usual equipment plus a foam roller.
Booking details to come soon!
Posted on