February 2017 I gave birth to my beautiful daughter Juno. I won't lie I don't do pretty pregnancy…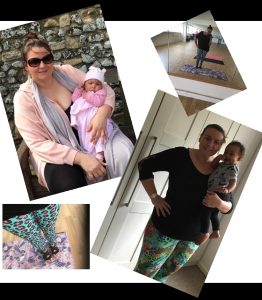 The weight gain recommendation for an average pregnancy; double it and then you are a little closer. Though let me add I had a great pregnancy, the usual nauseous but I was still running my studio, able to participate in regular exercise. After a quick drug free labour and delivery Juno arrived, she has been a text book baby, latched straight away, a happy content little social butterfly.
Then there was me, I looked at myself thinking 'what has happened', such excessive weight gain, stretch marks, excess breast tissue under one armpit that leaks milk (yes its true).
I love when people comment does Juno not sleep in her cot, can you not exercise when Juno a sleep. Truth is she sleeps on me, the first few months were nothing short of survival. Many would say don't worry about the weight it will drop off you as your breast feeding. It didn't!
I was simply exhausted I can't possibly put anymore pressure on myself. Running a business, single mum to a teenage boy and newborn baby. I was so scared my energy levels would drop even more I couldn't get my head around focusing on clean eating.
Then I changed my mindset & thought what if I start & do better then I anticipate? What if I start but don't put too much pressure on, take the scenic route.
What happened? I'm 6 weeks in, 1 stone gone, just like that! Reflecting back; It wasn't I didn't have time to cook, Kick Start meals take the same time in many cases less, ok in our household we are dairy free so that's ones thing not to have to take into account, it was the initial planning. Making sure I had food in & making sure I ate. If when I felt really tired I allowed myself something. As the weeks past the need for anything else has got less, the pounds are going & I'm back in the swing (and yes not religious, I've learnt my triggers, I've learnt what I can tolerate). Biggest achievement I'm controlling this monster called my mind! I'm starting to see my old body back, I'm feeling like me and that is helping my mind as much as my body. Progress is progress, here we go onto the next stone!
Michelle Jermy
Kick Start Franchisee Thetford, Norfolk
Posted on