Sal is a Fitness instructor in West Norfolk teaching range of LesMills & freestyle classes, Qualified in nutrition/weight management & nutrition for sport/exercise Kick Start Downham Market.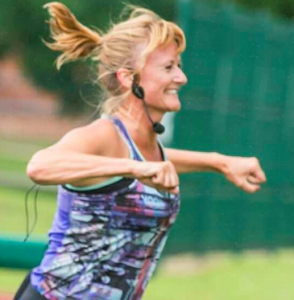 Sales trial group had great success:
Look at the huge difference in these photographs of my 71 year old mum, who has been following Kick Start since August this year.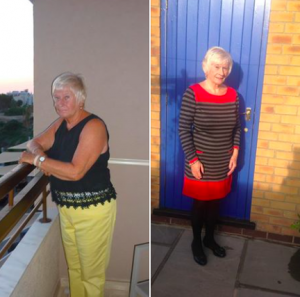 Here's what she had to say:
"I am 71 years old and retired. From the age of 9 I have suffered with arthritis. In the early 70s I nearly ended up in a wheelchair but was not happy taking drugs and was giving a book by a Chinese doctor who realised the connection between diet and joint pain. I started cutting out dairy products and takeaways and sl
owly recovered. I became hooked on this diet but sadly over the years I have lapsed.
This last year has been bad for me health wise besides my joint problems, I have suffered with blackouts and Menieres disease. Most recently I was diagnosed with Transaminitis which is a liver disorder. This was a wake-up call as my Consultant said I needed to lose weight.
After finding out that Sally was following the Kick Start programme and seeing her results, I decided to take the bull by the horns and go ahead and follow it for myself.
This was on 16th August. Then I weighed 11stone 2lbs. I was feeling so ill most of the time and had no energy. I did very little exercise.
To date, I have lost 1 stone 2lbs and dropped a dress size. I am now going on long walks, use the stairs in shops , rather than the lift and have started using my wii fit again. My latest fibroscan results for my liver are good.
If I can do this at my age just think what you can achieve."
Tina's results: 12.5 lbs and 10.5 inches lost

in 3 weeks

. Read her story below: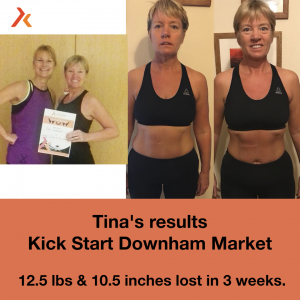 Sal's first group in Downham Market have seen fantastic results so far, here is the first from Tina:
"I was a carb heavy, snacker, tea belly 3 weeks ago , this non meat or fish eater is '12.1/2lb' off & 26cms or 10.1/2inches smaller …

I feel energetic, less hormonal & sleeping definitely improved … I found the 1st week tough especially day 3-4 the headache was bad , but since then I have been just feeling better & better . I initially missed the tea the most, but this stopped week two . I tweaked a few things with Sally's advise like what do I take on a long run to r
…
efuel? normally I would use glucose sweets or high sugar protein bars , now I'm using the naked bars. I have absolutely loved the planning , cooking and I'm actually less wasteful if the veg is getting passed its best , in the soup maker it goes ! This week was my attempt at the sprinter I followed it with only one tweak, the power green smoothie needed fruit so I could drink it , I used a mango & really enjoyed it so filling , I found the fasting easy which surprised me, I would definitely use it again maybe after a heavy weekend or holiday ! Right now the hormones…. I'm on HRT patches so this week is the week I swap to a different hormone patch to bring on HRT bleed, during these patches my sweats come back , I'm on patch 2 of 4 and no sweats , I'm so pleased because was due to go on to higher dose in November if it continued….. the last 3 weeks been an absolute learning curve about food , about myself & what I can achieve, I'm so so pleased with my results & I'm going to continue! This groups been brilliant sharing the journey , our ups & downs we are only human, .Thank you so much Sally for this opportunity, you have been brilliant, supportive , motivational & very knowledgable you will make a great consultant & if I can ever help you just ask x"

Check out Sal's own Lift Lean results: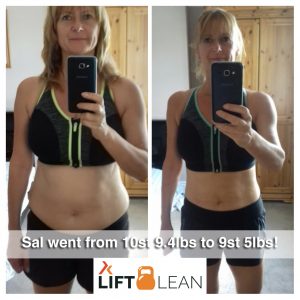 "Start weight 10st 9.4lbs
2" lost from bust, 3" from waist, 2.5" from hips and 1" from each thigh.
For me this is so much more about weight loss. I am feeling fitter, healthier and I have so much more energy. My clothes fit so much better than they used to. 
I was beginning to struggle teaching body attack twice a week on top of all the other programmes which I teach. I just didn't feel like I had the energy and if I had to travel to a class would be so stiff by the time I got home that I would often struggle to get up the stairs. I was resorting to taking iboprufen a lot, which seemed to becoming a habit rather than a need. At the same time I was peri-menapausal so suffering with inflammation, particularly in my fingers, chronic tiredness (needing to take a nap in the afternoons) night sweats, lack of energy, very disturbed sleep pattern.
Well not any more. Participants in bodyattack cannot believe the change in me and how much energy I have. Any menapausal symptons have gone. My skin & eyes are brighter. I haven't taken iboprufen since we started the programmed and my sleep is now mostly undisturbed.
I didn't think eating healthy could be so delicious. I thought that I ate well but in reality that only applied to evening meals as my husband and I share the cooking and we always cook something from scratch. Breakfast and lunch on the other hand? Depending on how busy I was with classes and work, breakfast would probably be Weetabix or peanut butter on toast. Lunch a large roll filled with tuna or ham and cheese. At its worst grabbing cheese and biscuits and a bag of crisps to eat on the run.

 

 

Yes it does take planning and prep to eat healthily but once you get in the swing of things, it becomes second nature. Lunches are now huge salads with a variety of ingredients topped with salmon or chicken etc and breakfast now usually involves an egg or two. 
Drinking salted water in the morning is now 2
nd
nature. Drinking at least 2 or 3 litres of water a day is also now a daily habit. I can honestly say I don't feel hungry between meals but occasionally have a snack of a handful of nuts or a banana smoothie if I want energy before I take a class.
No going back for me. I know when I have veered off path and had alcohol or foods high in sugar, that I feel rubbish the next day and usually have chronic stomach cramps that night.
I've still managed to enjoy a weekend away with the girls to Paris and a couple of weekends away with my husband but I have been better informed to make better food choices but still enjoy the odd treat.
This is definitely a way of life and just as Rachel says – I feel that I have been given all the tools I need to continue and become my own 'diet detective'"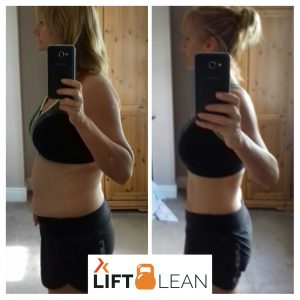 Posted on