Hello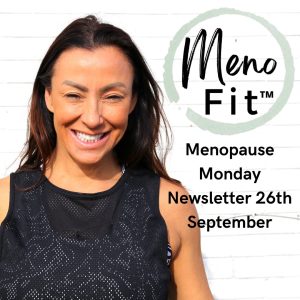 Meno's… How are you?
Menopause Monday
The weeks are flying by how can it be the last week of September?
I hope you are managing to stay on track with your health and fitness.
There are some interesting Menopause related information that has appeared this week.
Dr Louise Newsome îs looking for women taking HRT to be involved a study about HRT and Blood pressure. If you are interested you can take part by going to the App Store and downloading the @ZOE Health Study app. Once registered you will get an email inviting you to take part in the study.
October is Menopause Awareness Month
I'll be running Menofit™ Masterclasses, Talks, Challenges and fitness programmes all though October so do get involved if you want to improve your health, nutrition and fitness.
Subscribe to my Free Youtube channel and Join My Free Facebook group for women's health and fitness updates and news.
To kick off Menopause Month October I am running a 7 day Menofit Bootcamp click here for the details.
Menofit Workouts For You
Are you feeling tense and tight in your shoulders here is a Menofit Mobility Express Workout for you to of at home. Click here
Any feedback, questions, comments or feedback please send me a PM on Facebook.
HAPPY MONDAY
Rachel xxxx
7 DAY MENOFIT™ BOOTCAMP
£27.00 Starting Monday 3rd October
7 NEW MENOFIT Workouts
7 Nutrition Videos and Menofit
Daily Coaching and Accountability  click here
Posted on