Lisa had many health problems and lacked in confidence. Through KSFL she transformed her appearance, health and decided to teach others how they can do the same. Through KSFL she is now working in an area she is truly passionate about and getting the qualifications she needs to build a thriving business.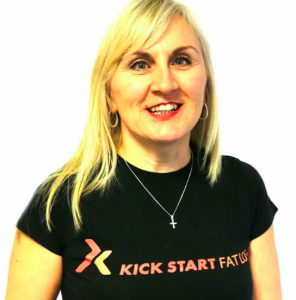 I have an underactive thyroid and since being diagnosed 10 years ago the weight had piled on and my weight topped the scales at 14 stone 7lb. I was highly allergic to wheat and when I ate some I'd get pain, swell up like a balloon and my immune system would respond by attacking itself. I emailed Helen Pybus as I'd heard about Kick Start fat Loss and it sounded like what I needed.
On 5th January 2015 I took the first step on my weight loss journey. I weighed in and then we had a group talk where I was given loads of advice about how to eat clean and healthy the Kick Start way. Perfect for me with my allergies as it's a gluten and wheat free eating plan.
The first week I lost 6lb, 4lb the second week and 5lb the third. I was amazed, over a stone gone in 3 weeks. I'd never had these results at any weight loss class I'd attended before. The weight steadily kept coming off and by June I'd lost 3 stone. I'd started a new thyroid medication and that with the healthy eating and I was getting more sleep meant I was feeling amazing.
By 13th July I reached my target of 4 stone. Summer was here and I was fitting in size 12 clothes for the first time since I was in my teens.
Launching my own KSFL group..
On 10th October I launched my own group. I had about 30 people attend and quite a few sign ups. I prepared a feast of Kick Start nibbles and people were really surprised at how nice sugar free food tastes. Helen opened the launch with a motivational talk then I had two of Helen's lovely ladies Lesley and Lynette who had lost 10 stone and 8 stone give an inspiring talk about how they achieved it with Kick Start Fat Loss. I went last telling everyone how I had lost the weight and how much difference it had made to my life.
I now hold classes on Mondays and Tuesdays at Oulton Community Centre.
Even though I didn't have qualifications I had the knowledge to help and support others and through KSFL training I could make my dream come true.
At the moment I do Kick Start Slim with no exercise. Although my Ladies can go online and do workouts on www.helenpybus.com
I share a lot of what I went through with my class and understand when they have their low day with the detox. I think it helps that I know how it feels and I've been where they are. So far four of my ladies have lost a stone and I should have another lady hit the 1 stone off mark tonight. Another lady is very close to her 2 stone off too.
My ladies really enjoy my classes and the results show that I am inspiring them to eat clean and healthy. I have now completed a nutrition course and this makes such a difference in providing the professional knowledge needed in teaching.
Hear Lisa telling her story at the KSFL Lowestoft launch

Visit Lisa's Facebook page HERE
Are you also passionate about health and fitness but don't have the qualifications yet to get started?
We will get you qualified and give you full training with support from the whole team
PLUS
You will be surrounded with positive people and a great support system 24 hours a day.
You will get help and mentoring with marketing and business.
Don't be afraid to take the next step in working in an area YOU are passionate about too…
Posted on