We are so proud of our very own Kick Start Fat Loss Cambridge Franchisee, Jay Banks, on winning the prestigious Personal Trainer Of The Year award March 2016 at IFS Blackpool. Jay has worked so hard to get where he is today and has accomplished so much, see our interview with him following his award: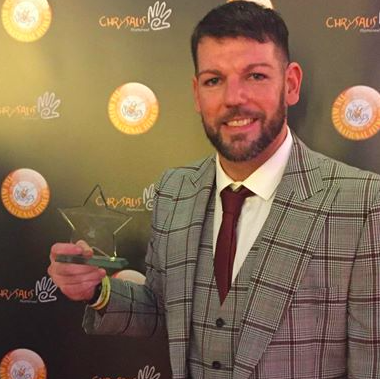 Tell us a little about yourself
Ive been in the fitness industry teaching group fitness since I was still in school.
I started off teaching kids dance classes at the dance college I attend along side and adults "Keep fit" class. However it wasn't till I stopped performing as a professional dancer when I meet my wife Kelly back in 2007 that I really got into Personal Training and Group exercise.
What is your history as a personal trainer?
I meet my wife Kelly back in 2007 and at that time I was at cross roads with my dance career. I had done all I really wanted to do within the dance industry and I had started to pick up a lot of injuries. It was then Kelly suggested that instead of doing what my Dad had told me to do which was go and study as an electrician to work along side him that maybe I should look at Personal Training as I had interest the fitness industry a lot more that i did electrics (Which I can't stand). Over the past 8 years I built my business as personal trainer from scratch but like most I did spend my 1st year or 2 working in a health club learning my new craft before setting up on my own.
I now train a wide variety of clientele ranging from Pilates rehabilitation to working with young dancers as head of fitness and nutrition at one of the UKs leading dance colleges 'Cambridge Performing Arts'
I was asked in 2011 and 2012 to train the UK Armed Forces in Germany in preparation for several tours of Afghanistan and was privileged enough to train the brigadier and hold a fitness fundraiser out there raising £2000 for the British Legion.
I have raised over £6000 for various other charity's in the past few years and most recently set up an event for East Anglia's Children Hospice in aid of there charity which will now continue to be a year fundraiser for them called "A gift for Christmas' held in December
Over the past 2 years I have opened two fitness facilities, Newmarket Pilates clinic which offers 1-2-1 and small group rehabilitation along side one of the leading Osteopaths in the country and also The Cambridge weight loss and body transformation clinic where myself and my trainers run 1-2-1 PT and small group sessions. I own KSFL Cambridge had have now trained over 2,500 clients both here and abroad since August 2013 in body transformation.
2016 hopefully sees all elements of my business growing from strength to strength with my philosophy 'Anything is achievable with the correct mindset, coaching and support'
How did you feel after winning the Personal Trainer Of The Year Award this year?
Winning the Personal Trainer of the year award was a dream come true.
I'm still buzzing and have a massive smile on my face and the award is in prize place in my house.
What has been the most exciting part of getting here?
The most exciting part is the challenges from different clients I see daily. I have a client with Parkinsons and had a client with MND. These client really put things back in check for me when I think things aren't going great but all my client give my excitement on letting me join them on whatever their journey may be.
How does KSFL fit into your business and how is it working for you financially?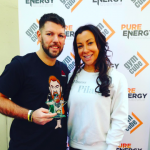 KSFL is the bridging between my Personal training business and group exercise business.
I only take 16 on the Bootcamp so it is a smaller more bespoke service.
I charge £97 per month per person  for the Kick Start Bootcamp and our the KSFL Dance is now up to 30 people per month paying £47 per month plus we average 15 clients online per month at £47
Kick Start  has tripled my income in the 3 years I've been a full franchise
The systems are so streamlined I've been able to use what I have learned from being a KSFL™  franchise business owner and apply to make my Pilates clinic and Personal Training business just as successful
People are in more need now than ever for help to get back to being healthy and fit. KSFL gives me the platform and tools to help more people lose weight, build muscle and feel amazing without having to try and cram more hours in my day as i run a small group training KSFL program.
What has been your best success story with KSFL?
I have had loads of success stories with KSFL but the one that I'm still working on is Maria's:
Maria Macintosh- My testimony
By Maria Macintosh, Child minder, mother of 2
My journey started after being told by the doctors that I was morbidly obese and potentially could start the process towards gastric surgery, which they highly suggested I did.
However this was not the root I wanted to go down and after hearing about Jay from a friend and how he had helped her I wanted to speak to him first to see if there was anything he could do for me.
After a long chat with Jay I realized that I needed advise on making the right food choices not surgery and decided to embark on my journey to avoid the knife.
At 1st I only saw Jay for nutrition advice and mid set coaching once a week as part of his kick start slim club in our local village.
This started at the end of November but the goal was by January 2015 I would be ready to start training both mentally and physically.
I started the physical training with Jay in January 2015, I hadn't exercised for many years and when I did exercise before it was a very rare occasion.
Jay made me feel at ease immediately and was great at making the sessions fun and never got me doing things which he knew I couldn't cope with so I didn't ever feel stupid or inadequate but he still managed to get the results he wanted.
15 months on, I look forward to my regular training sessions, it's changed my whole lifestyle and helped me become the fitter mummy I always wanted to be.
I'm still on my journey but know that Jay is there to help and support me when it's hard, yet push me and motivate me when it's needed to get me to my goal even though I have already lost 3 stone and 4 clothes sizes and am no longer eligible for surgery.
The whole package of mid set coaching, nutritional information, excercise, support and daily motivational emails and texts is above any other weight loss plan or trainer I have tried in the past.
With out Jay I really believe I would have had to of had surgery.'
What are your plans for the future?
There is no time to take my foot of the gas as I write this I am planning my next 6 week, 3 month and 6 month goals. The 1st thing is to continue helping my clients reach their goals. I would love to help more personal trainers bring out the best in themselves. Move my personal training studio, pilates clinic and group fitness business all under one roof. And continue to work more with KSFL, Group X Training, Pure energy music and hopefully get a clothing sponsor like REEBOK.
Thanks Jay for sharing your story with us and congratulations on your award! 
If you want to add another level to your business, find out more about becoming a KSFL Franchisee HERE

or
Have a chat with us about it…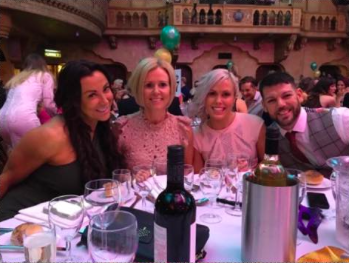 Posted on