Meet Jane who launched her own venue as a fitness professional, and decided she wanted to offer KSFL to her clients. The KSFL club has added an extra string to Jane's bow and she is seeing fantastic results.
Jane launched her King's Lynn KSFL club at the end of November 2013 when she opened her own venue; The Fitness Studios, King's Lynn's Premier Independent Group Fitness establishment. With an average of 15 people attending her monthly KSFL courses, Jane's clients have been seeing jaw dropping results ever since.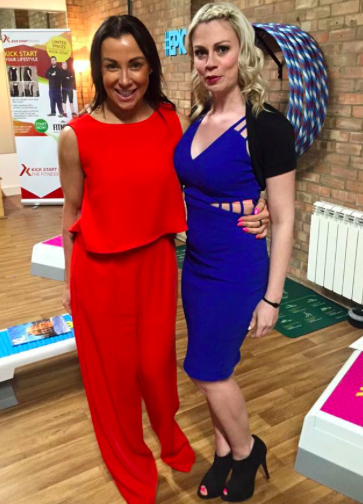 Not just in weight loss but major health improvements Jane has been running successful KSFL courses as part of her studio timetable. Jane and her team are highly qualified and are dedicated to bringing her clients the very latest in effective and exciting functional fitness classes. Tailoring classes, courses and nutritional advice to what is suitable and achievable to her clients. Jane is now also offering the 1-2-1 Kick Start Fat Loss Online Coaching, which the brand launched this week.
"Developing my online services and creating a passive income is crucial for me as I have 2 rather busy studios to run – time is crucial, there are also many courses that I attend to keep my knowledge up to date and fresh therefore I am keen to develop the online side of Kick Start Fat Loss Business that works round and supports all aspects of my lifestyle, whilst adding another key service to my studios."
The mix of LIVE Classes, online courses and 1-2-1 Virtual coaching creates an extremely powerful business model.
All in all it's been a fantastic few years for King's Lynn Kick Start Fat Loss. Jane has big plans for her business and is now looking for Instructors to teach at her studios and build on the huge KSFL success that The Fitness Studios has. Jane invites anyone who has a keen passion for health, fitness and wellness to join her team.
Testimonials:
""Well what can I say. . . . Jane and Terry offer the most specialised and best value for money (considering all of their qualifications, equipment and class variety) fitness service anyone could ever want, need or hope for. They are two of the nicest people I have ever met and have gone above and beyond to incorporate me (with a cornucopia of health issues) any and everyone into as many classes as I choose. The atmosphere is amazing and everything is so fresh, I love it! They have transformed my life (no word of a lie) with not only the fitness but the KSFL clean living lifestyle detoxes too, I couldn't ever thank them enough. I couldn't feel more supported or safe. It is just epic!!"|"Jade
"I would 100% recommend this experience to anyone! I was apprehensive at first as have tried lots of faddy diets in the past but felt so ready to give this my best shot. It's so worth persevering with and with the support of Jane and Terry, I'm the happiest I've been with my body for about 10years.  Always approachable and friendly and you really feel you're in good hands. I feel healthier and have loads more energy and considering I used to suffer a lot from headaches…. I now can't remember the last time I had one! This has motivated me now to keep it up. I'm surprised at how much I've enjoyed it and what I've achieved in such a short space of time. Feeling proud :-)" FB
"I am once again so pleased with the results of my latest KSFL programme, almost 11lb weight and 4 inches lost. As always Jane and Terry give more than 100% in helping you reach your goals. I never imagined that just over 1 year ago when I joined The Fitness Studio that I would get to the weight I am currently at and that my fitness levels would be so increased. The picture below compares me from when I started to now! If you haven't given it a go you don't realise what you are missing – GO FOR IT." MAE
"So glad I joined KSFL, I was feeling pretty down about the way I looked and have now lost half a stone in just 28 days and can look at myself in the mirror again. It was hard, the first week especially, I was ready to give up but Jane weighed me after 7 days and I had already lost 4lbs, which spurred me on. The classes were great and really pushed me to my limits but felt great afterwards." PPS
Add another level to your fitness business with KSFL!
Offer a LIFE CHANGING service to your clients.
Posted on