4 week transformation group in Newark starting November!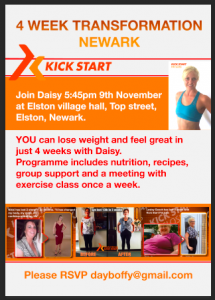 Ask Daisy a question dayboffy@gmail.com
New KSFL course starting in Newark 9th November
Join Daisy for 4 weeks of bespoke health, nutrition and fitness coaching to help you reach your weight loss goals.
All fitness levels welcome!
5:45pm Starting 9th November for 4 weeks
USE Code TRANSFORMATION And get a 10.00 discount
from the usual 57.00 making it 47.00
Where?
Elston village hall, Top street, Elston, Newark, Notts
Posted on