Herbal teas are fantastic to treat so many health complaints from bloating to insomnia, and they can be made at home too!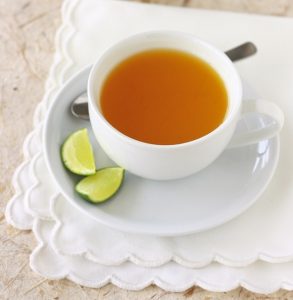 Bloating:
Fennel tea is the key to relaxing gastrointestinal spasms and relieving bloat.
Ingredients:
1-2 teaspoons freshly crushed fennel seeds
1 cup boiling water
Directions:
In a teapot, steep the fennel seeds in the boiling water for 5-10 minutes, depending on desired strength. Strain and serve. Re-heat if desired.
Inflammation:
Turmeric tea is fantastic for reducing inflammation and is a top superfood for your health.
Ingredients:
4 cups water
1 tsp ground turmeric
black pepper
Directions:
Bring four cups of water to a boil.
Add one teaspoon of ground turmeric and reduce to a simmer for 10 minutes.
Strain the tea through a fine sieve into a cup; add honey and/or lemon to taste.
Add a pinch of black pepper to increase absorption.
For nerves/stress:
Chamomile tea helps to relax  you and ease anxiety.
The recipe:
Ingredients:
One chamomile teabag or 1 heaping teaspoon loose-leaf chamomile tea or dried chamomile flowers
8 oz. (about 250 ml) fresh water, brought just to the boil
Optional additions to taste, such as honey, lemon, or mint
Directions:
Add the teabag or loose-leaf tea to your favorite cup or mug. (If you're using loose-leaf tea, an infuser or infuser mug is a great idea!)
Cool the just-boiled water slightly (chamomile tea is best when steeped in hot – not boiling – water), and then add to your cup.
Let your chamomile tea steep for 5 to 10 minutes (herbal teas tend to improve with longer steeping times to bring out their best flavor and fullest benefits).
Remove the teabag or loose tea leaves.
Optional – Add extras, like sweetener, lemon, or mint, if you wish.
Insomnia:
Lavender tea is perfect to relax you into a deep sleep and can also help lower blood pressure.
The recipe
Ingredients:
3 Tablespoons fresh Lavender flowers or 1 1/2 Tablespoons dried Lavender flower
2 cups boiling water
honey and lemon if desired
Directions;
To make Lavender tea put the flowers in a teapot or container along with the boiling water allowing them to steep a good 4 to 5 minutes.
Pour into cups straining if necessary to remove the flower buds. Serve Lavender flower tea with honey and sliced lemon.
For menstrual cramps:
Ginger tea is the key to easing these cramps and also has many other health benefits.
The Recipe
Ingredients:
1 1⁄2 teaspoons freshly grated gingerroot
1 1⁄2 cups boiling water
1 1⁄2 teaspoons honey
Directions:
Place grated ginger into a 2-cup glass measuring cup.
Fill to the 1-1/2 cup line with boiling water.
Set timer for 10 minutes.
When timer goes off, strain into a large mug and stir in honey (you may need more or less, depending on how sweet you want your tea).
Stomach pains:
Peppermint tea aids the digestive process so this could be the one for you!
The recipe
Ingredients:
1⁄2 cup dry peppermint leaf
3 -4 cups very hot water
2 -3 tablespoons honey
On Sale Near You
See what's on sale in recipes and in your Grocery List.
Directions:
Boil about 3 or 4 cups of water.
Add the peppermint leaves and shut the heat off.
Let the tea steep for about 5 minutes.
Pour through a tea strainer.
Add the honey and pour into cups.
The tea can be made from fresh leaves or dryed leaves.
Share your thoughts with us @KSFLUK
Posted on