Time is precious for us all and sometimes we just need HELP to stay on a healthy diet with EASY 10 minute recipes that the whole family can enjoy.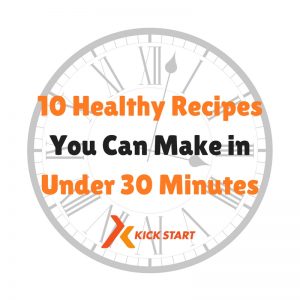 Today we have for you 10 recipes that can be made in under 30 minutes:
1. KSFL BURRITO BOWL
2. KSFL COLD SOUP

3. KSFL CHICKEN AND AVOCADO FAUX PASTA
4. KSFL SWEET POTATO PANCAKES

5. KSFL CHICKEN RAITA

6. KSFL FRITTATA

7. KSFL COCONUT, CHICKEN AND SWEET POTATO NOODLES
8. KSFL CLEAN TURKEY SALAD
9. KSFL NOODLES WITH AVOCADO AND SMOKED SALMON
10. KSFL KERMIT JUICE
STILL STUCK FOR TIME??
Check out the Kick Start Kitchen food boxes- healthy meals delivered to your door!! 
Posted on