In this beautiful weather it is great to get out and about to make the most of it- but the trouble can be deciding what healthy snacks to pack!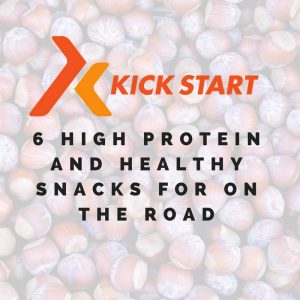 Check out these great options below:
1. Roasted Spicy Chickpeas
Ingredients
Chickpeas, One 15-oz. can
Vegetable oil, ½ tsp
Paprika, 1 tsp
Directions
Preheat oven to 375 degrees F.
Rinse and drain chickpeas. Pat dry.
Combine all ingredients in a bowl and mix well.
Grease baking tray with coconut oil before spreading chickpeas evenly on the pan.
Bake until crispy, approximately 30-35 minutes.
2. Overnight oats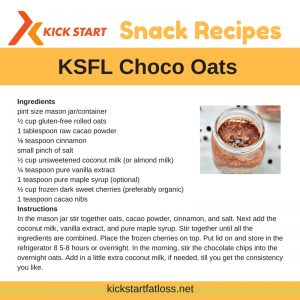 3. Sweet Chia Smoothie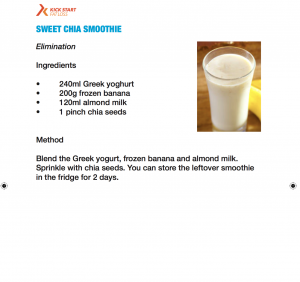 4. Bacon And Apple Egg Muffins
Ingredients
Bacon, 4 slices
Green apples, chopped into ½-inch chunks, 3
Cinnamon, 2 tsp
Eggs, 9
Coconut flour, 1½ tbsp
Coconut milk (or heavy cream), 3 tbsp
Baking soda, ¼ tsp
Sea salt, 1/8 tsp
Directions
Preheat oven to 350 degrees F.
Sauté the bacon until crisp on both sides. Remove from pan and set aside, but leave the grease.
Add the apples to the pan and cook with cinnamon for about 5 minutes. When they're golden brown, they're ready.
Whisk the eggs, flour, coconut milk, baking soda, and sea salt in a large bowl.
Distribute the egg mixture and apple mixture evenly in a standard muffin tin. Crumble the bacon evenly into the tins as well.
Bake approximately 25 minutes—you want the center to set. If you insert a knife or fork into the center, it should come out mostly clean.
Set aside and let rest for about 10 minutes. Remove muffins from tin and refrigerate. When you're on the road, keep them in a cooler.
5. Protein Balls
Ingredients
Vanilla protein powder of your choice 2 scoops
Natural almond butter, ¼ cup
Gluten-free oats, ¼ cup
Raw Honey, 2 tbsp
Dried cranberries, 1 tbsp
Dried coconut flakes, 2 tbsp
Directions
Set the coconut flakes aside, but mix all the other ingredients together.
Form the mixture into bite-sized balls.
Roll the balls into the coconut flakes, coating them completely.
Chill in the refrigerator, and keep stored in a cooler when you're on the road.
6. Prosciutto Chips
Ingredients
Prosciutto, fresh, thinly-sliced, 6 oz.
Fresh ground black pepper, ½ tsp
Cayenne pepper (optional), ½ tsp
Crushed red pepper (optional), ½ tsp
Directions
Preheat oven to 350 degrees F.
Line a baking sheet with parchment paper to prevent the prosciutto from sticking to the pan. Evenly place the prosciutto slices on the pan.
Dust the prosciutto with spices, as desired. Do your best to distribute the spices evenly.
Bake for 10-15 minutes, or until crispy. Transfer the prosciutto slices onto a cooling rack, and let cool.
Break into smaller, bite-sized pieces and enjoy.
Posted on