Hear from KSFL Warlingham owner Lindsay on how the evening went: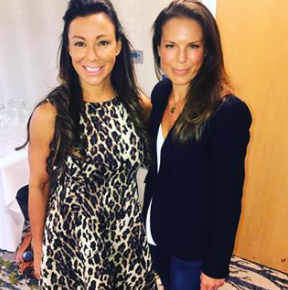 "The launch of my ksfl 60 day health & weightloss programme last night at Farleigh Golf Club in Warlingham was a huge success.  In the lead up to the event my concerns were bums on seats that evening.  That's the hardest part as once you've faces in front of you KSFL is a breeze to sell. Why because it gets real results!
My team of merry helpers arrived with the amazing ksfl food ready for sampling, slow cookers filling the room with fresh aromas and bootcamp brownies to die for!  It wasn't long before the room started to fill and a true reflection that consistency and presence on social media had paid off.
With 60 attendees seated I was ready to get started and buzzing with new and old faces eager to hear about the programme, it's content and how it can transform lives both weightloss and wellbeing.  Rachel did an inspiring talk as always and many of the ladies there resonated with the KSFL approach – it's not just about getting nutrition on point, it's about addressing the other factors affecting the bodies capability to burn fat and feel energised with a positive mindset.
Past KSFL clients were keen to share their success stories about how KSFL has transformed their lives for the better and emotions ran pretty high to be honest.  Understanding that in fact the loosing weight is the easy bit, it's getting the other rocks in place that make a real difference to lifestyle change and mindset.
So with a successful talk, food sampling and plenty of questions answered, we had an amazing sign up of 42 in total.  The night was a true reflection of just how many people are at a loss when it comes to shifting weight and having the right tools and mindset to keep it off.
KSFL as always looking outside the box and offering a package to make you the very best version of you."
Well done to Lindsay and the team on a fantastic evening!
Posted on