Tina's results: 12.5 lbs and 10.5 inches lost

in 3 weeks

. Read her story below: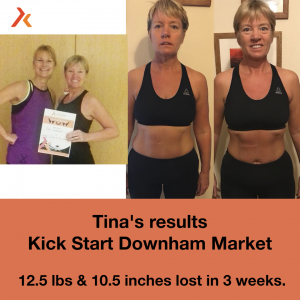 Sal's first group in Downham Market have seen fantastic results so far, here is the first from Tina:
"I was a carb heavy, snacker, tea belly 3 weeks ago , this non meat or fish eater is '12.1/2lb' off & 26cms or 10.1/2inches smaller …

I feel energetic, less hormonal & sleeping definitely improved … I found the 1st week tough especially day 3-4 the headache was bad , but since then I have been just feeling better & better . I initially missed the tea the most, but this stopped week two . I tweaked a few things with Sally's advise like what do I take on a long run to r
…
efuel? normally I would use glucose sweets or high sugar protein bars , now I'm using the naked bars. I have absolutely loved the planning , cooking and I'm actually less wasteful if the veg is getting passed its best , in the soup maker it goes ! This week was my attempt at the sprinter I followed it with only one tweak, the power green smoothie needed fruit so I could drink it , I used a mango & really enjoyed it so filling , I found the fasting easy which surprised me, I would definitely use it again maybe after a heavy weekend or holiday ! Right now the hormones…. I'm on HRT patches so this week is the week I swap to a different hormone patch to bring on HRT bleed, during these patches my sweats come back , I'm on patch 2 of 4 and no sweats , I'm so pleased because was due to go on to higher dose in November if it continued….. the last 3 weeks been an absolute learning curve about food , about myself & what I can achieve, I'm so so pleased with my results & I'm going to continue! This groups been brilliant sharing the journey , our ups & downs we are only human, .Thank you so much Sally for this opportunity, you have been brilliant, supportive , motivational & very knowledgable you will make a great consultant & if I can ever help you just ask x"
Thanks to Tina and Sal for sharing your wonderful results! 
If you would like to join Sal's live club then come along on 17th January to the free launch to see what it is all about at Downham Market Place- for more details click here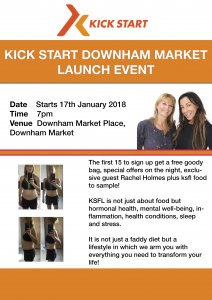 Posted on