Kick Start Top Tips for Keeping Fit during the Festive Season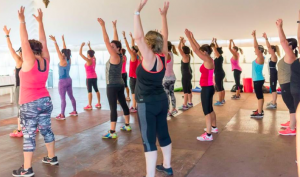 What's the best exercise plan for the Christmas period?
It's inevitable with parties, gatherings and other social situations over the festive period that that your fitness regime will take the back seat!  It is all about balance 🙂
There are lots of things you can do to keep up your exercise programme at home.  Remember you don't need to spend time travelling to and from the gym during the festive period!
What should I do about ALL the food?
It's best to keep party snacks to a minimum and eat (and drink) in moderation. We love the sandwich scrape- leave the bread and eat what is inside it- go for salads instead of chips and make kick start clean treats.
It is important to drink lots of water during the party season.  It will help offset the hunger feeling that comes with dehydration from over-indulging on the alcohol!
There's bound to be a few heavy nights drinking over the festive period, should I exercise the following day?
Avoid exercising early in the morning following drinking the night before.  You will be dehydrated and your body will not be in the best state to perform exercise.  Make sure you drink lots of water and exercise later in the day if you really want to train.  Even then you should reduce the intensity of your normal workouts; try walking.
If I miss weeks of exercising I find it really hard to get back into training, any tips?
The easy answer to this one is don't!   STICK TO IT. If you miss a day then make sure you don't miss again the next day. Our workouts are only 10 minutes which can be fitted around the busiest of schedules.
Are there any exercises you suggest to do at home to at least ensure I keep my training up?
The best exercises to do at home are bodyweight ones like squats, lunges, crunches, press ups and tricep dips on the edge of a chair or bed.  Use our selection on Youtube or live on Facebook to keep you inspired!
Enjoy the festive period!
Posted on