Nicola is the owner of The Studio and Kick Start Bromsgrove.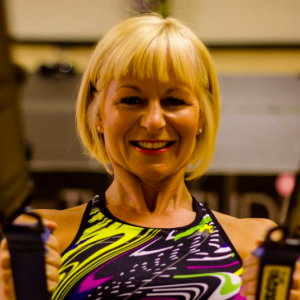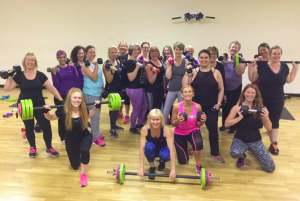 Nicki and her team at The Studio specialise in fitness classes. The Studio offers a variety of classes including Pilates, Zumba, Bootcamps, Boxercise, Step, Body Conditioning Classes, Kettlercise, Legs Bums and Tums, Circuits and much more!!
The Studio is a fun friendly fitness studio where everyone is made to feel very welcome. All of the classes are designed to get you into the best shape of your lives but have fun at the same time!!
Hear Nicola's story:
I have worked in the fitness industry for over 19 years and it is my passion. I absolutely love what I do. I love helping people become a fitter and healthier version of themselves! For me fitness is hugely satisfying and rewarding. I have always had a great passion for healthy living and exercise and I participated in group exercise and team sports from an early age.
I was always slim at school and never had a weight problem, probably due to the good food my parents gave me and the fact I was always moving about, however, once I started working after leaving school at 16, I found that I didn't have the time exercise. I worked very long hours training to be a hairdresser and any time I did have and I was also having a great time going out with my friends. I rarely got a break at work, so my eating habits changed for the worse! This led to me putting on weight, not lots but being only 5ft 2inches and a small frame the extra weight really showed on me.
I tried all sorts of faddy diets to lose the weight and for several years I would lose that 7/10lbs and regain it several times!!
During my early to my mid-twenties, I went through quite a very difficult time. This led to me losing my confidence and I had very low self-esteem.
In order to get away from the situation I started swimming and going to aerobics classes. I fell in love with aerobics as I have always loved to dance and always enjoyed exercising so this was perfect for me. I truly believe that attending those aerobic classes and going swimming gave me the confidence to get myself out of the situation I was experiencing at that time.
I was diagnosed with depression and stress and I had lots of illnesses one after the other due to my immune system being low,  I was also diagnosed with IBS, however, I continued to exercise throughout and I am certain it was the exercise that got me through that time. I didn't take anti-depressants even though I was given them. I used exercise instead and it worked!!
At the time I was completing a Housing Studies Diploma for my job as a Housing Officer and as soon as it finished I decided I would study something that I was interested in so I enrolled on an Exercise to Music course. I am naturally quite shy and had no intention of teaching an exercise class. The thought of standing up in front of people filled me with dread!! I just wanted to learn more about the body and exercise for my own personal use. However, despite being extremely nervous every time I had to stand up in front of people to teach a class, I loved it. I became hooked and signed up for lots more courses. I wanted to learn as much as I could and be the best I could be. This was something I was told I was good at, I loved it and it gave me so much more confidence. I decided that I wanted to work as a fitness instructor full time. I built up my classes in gyms and personal training clients and eventually I went part time as a Housing Officer and very soon gave it up altogether.
|In January 2012, I opened my own Fitness Studio. This had been a dream of mine for a long time and four years on it is going from strength to strength!
I run a variety of fitness and nutrition programmes and fitness classes from my Studio. I am passionate about helping my clients get their mojo back, feel good about themselves, improve their overall health and have fun too!!
Last year was a challenging year after losing my Auntie to cancer at the beginning of the year and my Dad being diagnosed with Prostate Cancer a few months later. It was very stressful, I was sleeping even less than usual, my energy levels were low and I was craving sweet things!! I normally prefer savoury things so I knew that I wasn't eating right! My IBS had flared up again and this affected my energy levels as well as gaining a bit of weight and bodyfat!
I was also finding it difficult, due to lack of time to keep up to date with the latest nutrition research, which is really important for me to be able to pass on to my clients so that they get the best results.
So when I received an e-mail from Rachel in December 2015 asking for Fitness Professionals to become KSFL coaches, I decided it was just what I needed for me and my clients.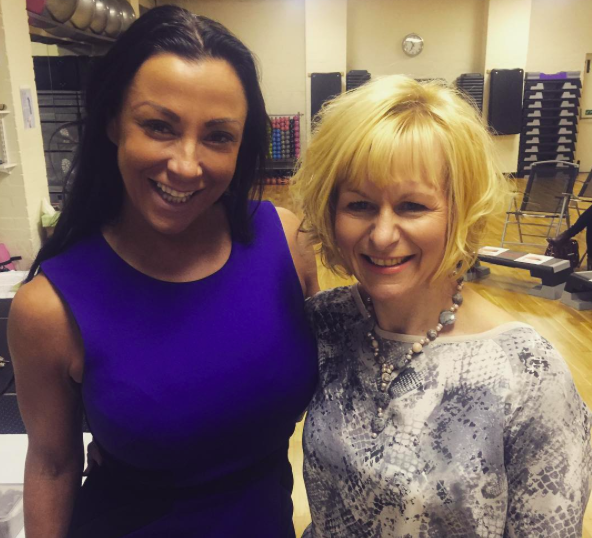 I launched KSFL at The Studio with Rachel in February with over 50 people attending the launch evening. It was a great success and 22 people signed up for the 28 day programme which I started in March 2016. I started the programme with them too as I knew it would help me get back on track with my eating.
I wanted to lose a bit of weight and bodyfat but my main reason for doing KSFL was to rid my body of toxins so I would feel better and have more energy!
KSFL did exactly this. I am pleased to say that I have not only cleansed my system, but I have so much more energy and I feel I am getting back to the old me again. I am eating far more than I was before too! I was feeling awful because I wasn't eating enough!
KSFL is a lifestyle change, not a diet. We eat for health and wellness and when we do this we naturally lose any excess bodyfat and inches and weight. For most of my clients, it has been liberating not to focus only on the scales!
My clients have had some successes in just 28 days are delighted with the results they are getting which includes inch loss, fat loss, weight loss, more energy, not having indigestion, clearer skin and much more.
My aim is to help as many people as I can become fitter, healthier and feel and look as good as they can!
Fantastic results for the KSFL Bromsgrove 12 week transformation group: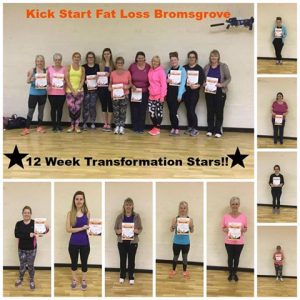 Have a read below and see how Nicki's team found the KSFL programme including ups and downs and light bulb moments!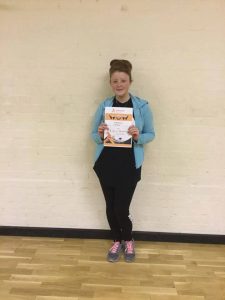 Fran's story
"Before I started the KSFL 12 week programme I had lost quite a bit of weight a couple of years ago but have been slowly putting it back on and had felt that I needed something new to get me back on track!
I am a member at The Studio and attend 4 classes a week so my exercise was at a good level. I just needed help with my eating. I was exercising enough but wasn't losing any weight.
I thought I would give the KSFL programme a go and try and change my eating habits. I have thoroughly enjoyed the last 12 weeks especially the talks at the end of each HIIT session.
I have learned so much about how hormones, sleep etc can affect your weight loss.
For me I was fed up of constantly feeling bloated and if I could get rid of that then any weight loss would be a bonus!
I no longer feel bloated and have lost 5.5lbs and 16 inches! I am over the moon and can't wait to keep going and lose more! Thank you so much to Nicki and Vicki for all your support and all the wonderful recipes!"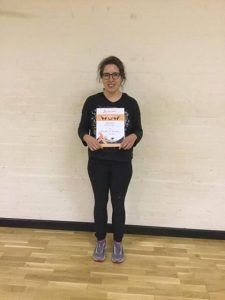 Hollie's story
I have just completed the 8 week KSFL program. I was worried that as a vegetarian I would find the exclusion elements of the program too hard to follow (restricting sugar, dairy, gluten) and I would be left with nothing to eat.
However, I quickly settled into this new way of eating and haven't found it too difficult at all.
I've been having 3 meals a day without snacking in between and not been hungry.
I've been losing and gaining the same 10lbs since I had my baby last year.
I've done other diet programs in the past and struggled to stick to them and keep the weight off. With KSFL I've lost 14lbs and 14 inches in 8 weeks.
I've also found is that my skin is clearer than it's ever been. I've learnt things doing this program which I intend to continue long term.
I found the HIIT sessions really energising and have started doing HIIT workouts at home.
The sessions with Nicki and Vicki on a Thursday really made me think about my eating habits and encouraged me to make positive changes to my diet and lifestyle."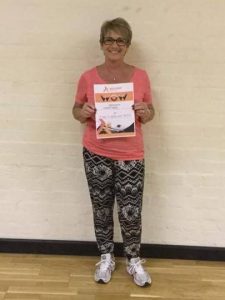 Heather's story
"Hi Nicki and Vicki I have really enjoyed KSFL and even though I joined halfway I still managed to lose a little weight and a few inches.
KSFL has shown me how to be kinder to my body!
My diet has changed dramatically! I feel satisfied after my meals and don't feel bloated any more.
I sleep better and my skin is hydrated and generally, I am feeling so much better.
My overall well-being has much improved
I'm very grateful to you both for your help and encouragement. Thank you."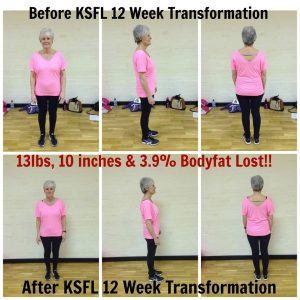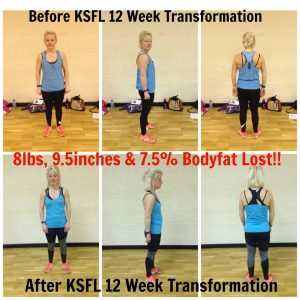 Jo and Jenny's story
Like Kimberley, mother and daughter, Jo and Jenny, completed the full 12 weeks. Here's what they thought about the programme:
"Mom and I have just finished the 12-week programme and are both really pleased with our results.
We have always eaten well due to doing Nicki's exercise and nutrition programmes, but we needed help getting back on track, as we had started having treats more often than we should have been.
We found Nicki and Vicki's talks after every HIIT session very helpful and informative. It was nice to have the support of the group and hear other people's stories and their struggles. It was great to share recipes with each other too.
We'd definitely recommend this programme to anyone who wants help to get out of bad habits, get in shape and feel great too, as we feel great!"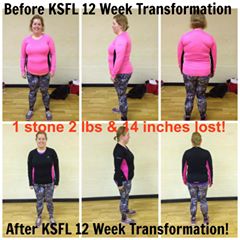 Kimberley's story
Kimberley completed the full 12-weeks, here's what she has to say about the KSFL Bromsgrove 12-Week Transformation Programme:
"When I first signed up for the programme, I didn't really know what to expect or how I would get on. I was at a point where I had been losing inches, but the scales weren't moving and sometimes increased and I needed to do something new.
With the help of Nicki and Vicki and my friend Rachel, I lost 16lbs and 14 inches from my body during the programme, which I am so proud of. But more importantly, I feel so much better, have much more energy and I've tried foods I wouldn't normally have eaten.
I stuck to the plan 80% of the time and 20% of the time had small treats. This worked for me and I knew that I could enjoy my treat or day out, and then the next day, get straight back on plan – this made it much more realistic and something I can continue to do long after the 12 weeks have finished.
I have gained so much throughout these 12 weeks and I have been able to start running again after an injury. I don't know if it's the foods I am eating (and no longer eating), the weight loss or both, but I ran my quickest 5k and I am consistently quicker than before my injury, losing weight and changing how I fuel my body with the foods I eat.
At times, it became hard, but having Nicki and Vicki, my friend Rachel, who did the programme too, and everyone in the group helped a lot and got me back on track. I cannot thank Nicki and Vicki enough – you have kick-started my journey to (hopefully, although dependent on me staying injury-free) running my very first marathon. You also helped me further on my way to achieving my weight goal.
If you are thinking of joining one of the KSFL programmes, definitely do it. It's not a fad diet, it's a change in mindset and a lifestyle change that isn't just for x amount of weeks."
http://www.nicolacarless.com
Posted on