Kelly , proud coach of Kick Start Cambridge, shares her results with us from her recent PLATINUM programme:
Cara "Thanks Kelly Reed-Banks feeling great! Have enjoyed the food and the exercise! With the help from you and also getting fitter by doing classes before I start and seeing Lexi I will be starting the new year ready for anything. Boom!"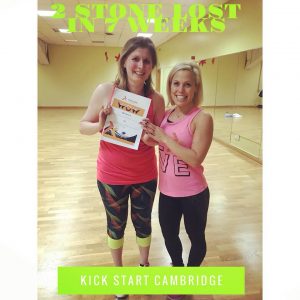 Filled with so much pride & love for this lovely lady Lisa Barrett.
.
Lisa has now lost a staggering 32 inches in the last 2 months with me on my women only exclusive kick start platinum programme
Her confidence and attitude to nutrition & exercise is sky high!!! Thank you Lisa for making every day such a pleasure
?
We are sooooo proud of you
Here's to smashing 2018!!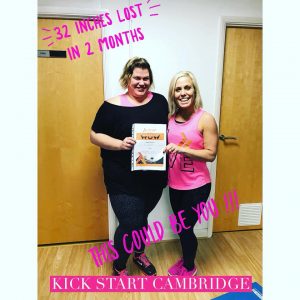 Jane signed up to my 12 week course online back in January and only focused on the nutrition, couldn't get to classes so didn't do any of the exercise however still manage to transform her body shape dramatically then she decided she wanted something more specialist so signed up to join my Platinum ladies who I train 3x a week at an exclusive Pt studio in Cambridge & this course is for a maximum of 4 ladies per course – jane has just completed her 8th course with me & is looking amazing!!!
She's lost another 17 inches in this last course but more than that her Fitness is through the roof!!!
She is sleeping all night through when before she was awake all night & she's feeling fantastic!!!
I'm so proud of her & she's such an amazing client to train we have no stop giggles!!!
So please can you give her a massive well done!!!
?
?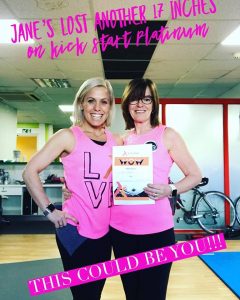 6 week programme results;
Next up for transformation Tuesday is Leonie Hunt!!!!
18 inches lost in the last 6 weeks on Kick Start Cambridge & I'm so proud of her!!! She's gorgeous inside & out
This is her story –
I've just completed a 6 week ksfl plan with Kelly, having previously done a 12 week plan at the start of the year. I'm extremely pleased with the consistent inch & weight loss I've achieved both times & feel I have discovered a lifestyle & nutrition plan that I can take forward from here to maintain a size & weight I'm happy with.
Simply put, ksfl works. If you're prepared to put the effort in, commit to following the plan & advice, you will see results. I feel heathy, strong, fit and empowered. I sleep well, eat well & feel great. Kelly is an inspirational leader offering unstinting support, advice & motivation. I love every class I do with Kelly & simply could not have achieved the results I have without her constant positive input.
I highly recommend the ksfl lifestyle to anyone that wants to make a positive change in their life. l feel 100% better for embarking on this journey in every way, not just physically but emotionally & mentally too. You have the power to make positive changes for the better, so go for it!
All this is true Kelly!!! You are amazing at what you do, and I really hope you know it. I thank you from the bottom of my heart!!!
Leonie xxxx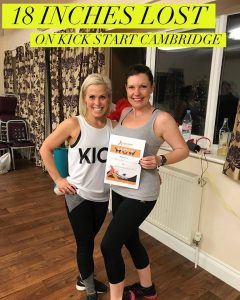 This is claire who's joined us for the first time at Kick Start Cambridge & lost a brilliant 17 inches in 6 weeks
Amazing work Claire!!! So proud of you!!!!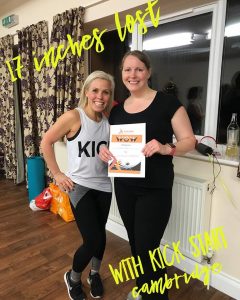 Meet the amazing Rachel who has completed her first 6 weeks on Kick Start Cambridge & list 22.5 inches!!!!
Here's her story –
I recently completed my first KSFL programme (6-week course with Kelly Reed-Banks) and have been delighted with the results. I wanted to try something that combined diet and exercise and hoped to lose at least one dress size before Christmas. Not only did KSFL deliver the result I hoped for but also with unexpected outcomes. For example, I had not realised how toxic my diet was before KSFL, I now feel I have more energy, the brain feels more focussed, I don't feel bloated after eating (less windy) and I just feel great. I now feel ready to make life-style changes (keeping off caffeine, dairy and gluten especially) and hope to continue with my weight loss journey. Kelly is an awesome fitness instructor and delivered the KSFL with passion and professionalism, the group also contributed to keeping me motivated and I really enjoyed sharing our journey. I've already signed up for the 7 day pre-tox KSFL programme to keep me motivated until Christmas, but I'm sure I will be signing up for more in 2018.
Rachel Williams (Burwell)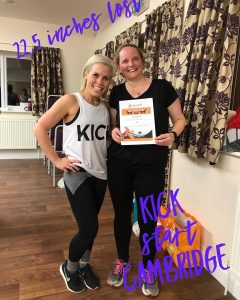 WELL DONE to  Kelly and the team!
START YOUR JOURNEY TODAY locate a #KickStart live #dietclub near you https://business.kickstartfatloss.net/locate-club/ 
Posted on