Sharon started following Kick Start as part of her training for a half marathon and following her history of health problems now sees massive changes, read more in her story: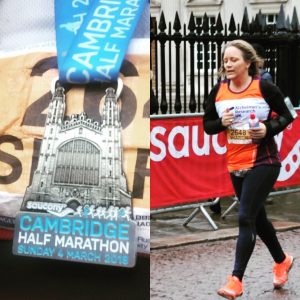 "I've been following plan now for just over a month and I've lost 11lbs.
I just started off using the principles from the 7 day body blitz .
I have been training for a half marathon
( couch to half in 6 months ) & I completed it on Sunday with knee injury in 2hr 35 so thrilled .
Before I started following plan , I was running for months in training and not losing any weight at all , although body was toning and few inches lost it was so frustrating .
Last week plan went out window as I was carb loading for race . But I'm back on it now and doesn't feel like a diet just a lifestyle change as you promote it .
So thankyou !!! I'm going to start following your exercise routines now as I won't be doing long distance runs on going as my body is protesting !
I've also raised £800 for Alzheimer's research
I support this charity as my mum has been living with dementia for Several years and it's devastating , also I had a stroke Age 40 ( 4 years ago ) which had a huge impact on my life and makes my half marathon an even bigger personal achievement .
&  do you know – The principles of KSFL  is almost a checklist of what to eat for best brain health and to avoid getting Alzheimer's , another amazing motivation to make this life change !
I'm so glad I found KSFL , for all the reasons listed & because it's 100% about changing your life for a healthier future . I love that it doesn't feel like a diet and the food is just so clean . My whole mindset has changed with regards to diet and exercise .
Thankyou !!!  "
A big thank you to Sharon for sharing your story and well done on your wonderful achievements!
Posted on