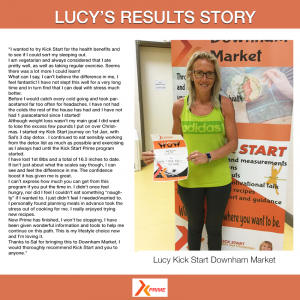 "I wanted to try Kick Start for the health benefits and to see if I could sort my sleeping out.
I am vegetarian and always considered that I ate pretty well, as well as taking regular exercise. Seems there was a lot more I could learn!
What can I say, I can't believe the difference in me, I feel fantastic! I have not slept this well for a very long time and in turn find that I can deal with stress much better.
Before I would catch every cold going and took paracetamol far too often for headaches. I have not had the colds the rest of the house has had and I have not had 1 paracetamol since I started!
Although weight loss wasn't my main goal I did want to lose the excess few pounds I put on over Christmas. I started my Kick Start journey on

1st Jan

, with Sal's 3 day detox . I continued to eat sensibly working from the detox list as much as possible and exercising as I always had until the Kick Start Prime program started.
I have lost 1st 8lbs and a total of 16.5 inches to date.
It isn't just about what the scales say though, I can see and feel the difference in me. The confidence boost it has given me is great.
I can't express how much you can get from this program if you put the time in. I didn't once feel hungry, nor did I feel I couldn't eat something "naughty" if I wanted to. I just didn't feel I needed/wanted to.
I personally found planning meals in advance took the stress out of cooking for me. I really enjoyed trying new recipes.
Now Prime has finished, I won't be stopping. I have been given wonderful information and tools to help me continue on this path. This is my lifestyle choice now and I'm loving it.
Thanks to Sal for bringing this to Downham Market, I would thoroughly recommend Kick Start and you to anyone."
WELL DONE to Sal and the team!
Posted on