Kick Start Warlingham with Lindsay have had some fantastic results on their Prime health and wellness programme, take a look:
Julie Wenham 
I have attached before and after pics and thank you for your inspiration and motivation
😀.
My shape is slowly changing and I have lost 15cm so far.
I haven't included weight loss as I must have recorded my initial weight incorrectly as I can't have lost that much…Lol….
I joined the programme unsure if I was ready, following my Mum passing away at Christmas and also finding the time, but I am pleased with the results considering I did fall off the rails on a number of occasions!
I found the online programme really worked for me as due to the hours I work and commuting it's so difficult to get to classes and the daily videos and protocols helped guide me in the right direction. I do miss class workouts which I previously used to be able to do-it's made me realise my work life balance is too much 'work' at the moment even though I do enjoy my job. The online workouts have really helped although I need to do them more regularly.
Finding the time to try the recipes is also so difficult for me due to hardly being at home so another thing I need to address!
I have learnt so much on this programme and I find myself thinking differently about food. I know I have the tools and knowledge to slowly make the changes I know I need to.
So thank you Lindsay for running a programme that reaches and includes people that can't get to class too
😁
Have a great summer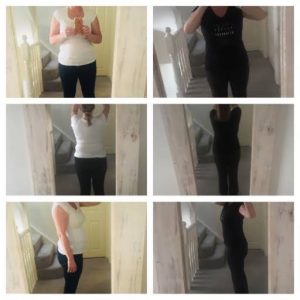 Linda Sheldrake (pic with Dee Campbell)
End of the five weeks and I am so thrilled with how I feel. Have lost 1st 2lbs and 12 inches. I have included pics for you although I don't think you can see much difference. You have definitely nailed this programme perfect length and content with the classes as well. I feel fitter and leaner and intend to carry on trying to do 3/4 classes a week. I realise I do not need very much food maybe just one meal with a couple of snacks a day seems perfect. I will go on holiday feeling amazing. Roll on Italy and then back to clean eating when I get back. thank you again for all your support and hard work.
Denise Campbell (pic with Linda Sheldrake)
I really enjoyed this 5 week program. It was short enough to make it doable but long enough to impact weight & inch loss. As some of the other members have said I like the protocols each day. Making it easy to choose what best suited you. I lost 8lbs & 5ins which is great. I've been part of KSFL since Jan 17 & have learned so much. Look forward to continuing with this lifestyle. Many thanks Lindsay for you're motivation, endless encouragement & boundless energy
😊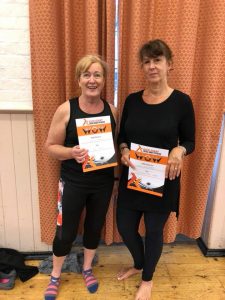 Mhari Pears
I have just finished 5 weeks of KSFL Prime and I am feeling great. It has transformed me both physically and mentally.
I have learned lots of interesting and valuable information about menopause and peri menopause and how nutrition affects you during this time.
I have lost a stone in weight and 13 inches (5 of them from my waist) which has left me half way to my goal weight.
😁 I now feel equipped with what I have learned to help me work towards this.
Lindsay has been a great coach keeping everyone motivated and on track. The Facebook group has really helped – sharing recipe ideas and boosting moral.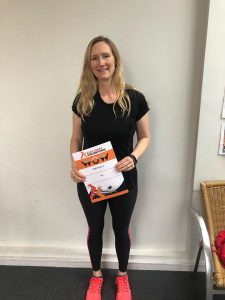 I've never taken before and after pics but thought I would this time. To say I was disappointed in myself for letting the weight creep back on is an understatement. I was horrified to see after I took the photos what resembled one of those 'loose belly fat now' ads
🙈. Why had I not noticed, or had I just been kidding myself by buying bigger sized clothes. Anyway, it was the kick up the arse I needed and I've loved getting control back. I've cut back on the snacking, kicked crisps, biscuits and sweets to the curb, and I'm generally eating much more heathily. I haven't managed to wean myself off coffee – I did for 5 days at the beginning but for now I'm just going to limit myself. I've not been able to get to class, running a business and family issues has made it hard but the online videos have been great, and I'm back to running round the fields with the dogs
🐶 The result: I feel great, the pain in my knees has lessened, I've lost 7lbs in weight and 9 inches in total. This isn't the end though, I'm really pleased with the results but I've still got a way to go. Thank you Lindsay Williams for your encouragement, daily updates, knowledge and boundless energy! And thanks to all the fellow kick starters – the shared frustrations, funny posts, recipies really do help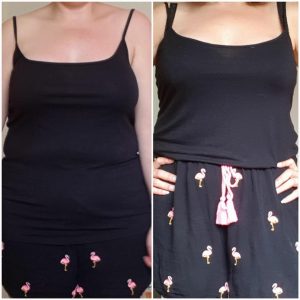 Posted on